Be Heard!
The Editorial section has changed. To make its more useful to everybody we have decided to take the most frequently asked questions we recieve each week here so you can get a thorough answer straight away from one of the creators of NeoPets. more

STOCK MARKET STORY
Recently, the Neopian Times' financial experts got an opportunity to talk to one of corporate Neopia's biggest movers and shakers, Lupe Consolidated founder and CEO Lupert Murdoch. And now with all the day's financial news, here is "The Neo-Market Report," starring Neil Kauvuto and Maria Blumaroono…more
Sports & Games-
Don't forget to check today's high scores. New High scores & champions everyday. Feeling sporty? try your luck and test your skill at the NeoPets Gaming Center!!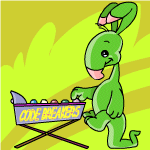 We want to know what you think about the new Neopian Times! Your opinion counts. Let us know at...
neopiantimes@neopets.com