Headlines
Ahh! It's Alive!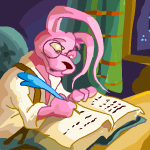 Have you been trying to write stories for a long time, but your characters just don't seem right? Well, if so, you're in luck, because I'm here to show you how to write up an ideal character. You all know the importance of having a good, realistic character when you write stories for the Neopian Times, or anywhere for that matter... more>>
Other Stories
---
Just Like Kauvara
No one was there, but she noticed a stack of papers with writing all over them, she picked them up and noticed that they were notes for a book Kauvara was writing about making potions.
---
Hamleys – The Real Story.
It seemed a good idea - go to London, meet the infamous Donna and Adam, plus the long suffering artists, and even meet two friends from Neopets.
---
---
---
Mutants Ain't Bad!: Part One
I was admiring some rather fine pieces of delicately crafted bracelets when one particularly astonishingly exquisite silver necklace that had a large, glowing emerald pendant caught my eye.

by unique377
---