Editorial
You did a great job on the Uni's new picture!:) Is it possible to do it to some of the other neopets? - Stnemele_Faerie
Heh thanks :) I will pass the compliment along to the artists. There may be a few Neopets that get a new look, nothing drastic, just a little bit of an update so they look less static. When we know what we are going to do we will let you know on New Features.
I was just wondering, does Smuggler's Cove actually work? Everytime I go there, there's no items for sale. - Dx20881
Yes, Smuggler's Cove is working but the pirates only get a few little bits here and there so you have to be REALLY luck to find something on sale when you go there.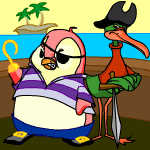 Bah, smuggling...
we know nothing about smuggling!
Who is Piera??? You said that it was her birthday, but who is she?? Is she a green monster with three heads or something (kidding)??? - FlannelPajamas
Piera is one of our monitors, you can see who works for Neopets on the About Us page.
I was just wondering, and probably all the members of Neopia are too, who was the first person to own a Neopet? - Random_person154
That would be Adam.
I have a Usulbat plushie and it has an eye missing. If all of the Usulbat plushies have that, than why isn't it called a Broken Usulbat plushie? - Bumfudge
All the Usulbat plushies are like that, its part of their design. They aren't actually broken.



What does the Tiki Tack Tombola guy mean when you donate NP, and he says that 'Your kindness will reflect upon you someday' or something. Is it true that if you donate money to the Tiki Tack Tombola, you will get a rare or useful item someday?
Well this hasn't been proven exactly, but you never know, the Tiki Tack man could possibly hand you a winning ticket in the future.
I am an adult member (and parent of a very young member). I read about the future Neopets Magazine recently. Is Neopets Inc. considering releasing a Neopets Guide (or something similar) in book form, like a manual? - Jmullerleile
It is most definitely something that we are considering although nothing has been decided as yet.
I was wondering you did the makeover on the Unis. But only the Red, Green, Blue, & Yellow. Are you going to redo all colors like Spotted, & Faerie? - TagandKiss
Yes, they will all be updated shortly.
Does the help section get updated? If so how often? - Chow19?
Yes, we add new answers into the help section from time to time, when we do a large update we mention it in New Features.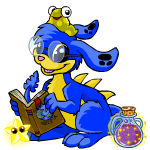 When do you update the high score tables or does it automatically update itself at certain time intervals?
It happens automatically.
A while back there was a uk store locater but now there is only a USA one, will you ever bring it back or are you updating it or what? - Adder1990
Actually we have something very big and exciting happening in the UK soon. There should be Neopets merchandise on sale in the UK shortly after that. I can't tell you anymore right now as its a secret though :)
Do neopet players get their account frozen when they reach 5 million neopoints?
No.
The Turdle is my favorite petpet but it has barely any colors that it can be painted while other pets have a ton. Can you please make more colors for it?
Sure. We will get some done this week.



Looking at the fun images that are available for use, I see Kougras, Meercas, Kiko...all the pets that exist. However, there are no fun images for Poogles. Why is this and will there be any coming soon? I'd love use some Poogle Images in my shop!
I'll see what I can do :)
What is the Virtuvend 2000 MAX used for? - Thetomosian?
It is the Alien Aisha vending machine.
---
Need more help?
If you have a question that you think should be answered here, e-mail it to editor@neopets.com. The most common/bizarre questions will appear here next week.