Headlines
Tags, you're it!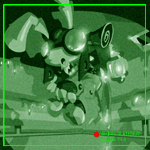 HTML: You've heard of it, maybe you haven't. HTML is a great thing you can use on the Internet. I sometimes refer it as to 'making the computer do stuff for you'. more>>
Other Stories
The Travelers
Werelupes were the least of Dane's worries as she soon found out. She had no idea what else could be lurking in the dark of the night.

by supergirl309
---
The Rainbow
In our homeroom, a strange, starry male Uni entered with the teacher. Lorea and I exchanged a look.

by memo
---
A Guide to Winning Trophies
Have you ever looked at the flash game hi-scores and wondered, "How do they get such high scores?" Or, have you ever looked at someone's trophy cabinet and wondered, "How do they get so many trophies?"
---
A Neopian Web Design Treatise: On Text
Choosing the right font can be as important, if not more so, than choosing the right images and colours for your site. Despite this, however, it is a topic often ignored in favour of more "interesting" or "artistic" aspects of web design.

by oddhatter
---
The Great Orb Theft: Part One
"There you go again! Simple, one-track mindedness! No wonder Merridell was in such a state before you STOLE Darigan's Orb!"
---
---