Editorial
Last week you said some kinds of apples do not agree with Kyrii at all. But mine will devour any kind of fruit or chocolate, but no meat. Nothing. Not even pizza with pepperoni. Will this make her sick or un-balanced? - Sparkleshimmersunny
No, you are just very lucky. Most Kyrii get very ill when they eat apples.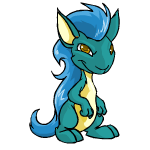 I saw a yellow Walkingcarpet in a petpet gallery and I was wondering why its not in the list of colours you can paint petpets?
Oops it must have been left off... I will add it now.
Hi, I noticed something weird about the new Magax: Destroyer card. The picture of the card shows it having a black backing, but when I checked the spoiler list I noticed that it was Holo. I was just curious as to what the correct backing is for the card?
It is black.
What are the little figures for the pocket neopet for? - Awawwal
They are just cute figures than you can move around the landscape. Its just an extra feature.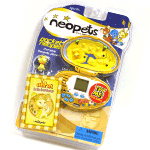 Hey Adam and Donna. Do one of you have a PS2 and if so whats your favourite game. Also, where can I find the link to the Fun Images. - Marcus1rules
Yes we have a PS2, I think I would have to say either Gauntlet Dark Legacy or Okage are my favourites although I havnet played for a while.
Why is jelly world orange? - Magadragon95
Everyone knows orange is the best jelly flavour :)
I just got my bathroom set up in neohome (for which my pets are immensely grateful!). The toilet and the bath tub are both tiny! The cream carpet and the red pot dwarf the facilities by a lot. They look petpet sized! Do you plan on enlarging them the way you did for the snowman?
Yes, they should be fixed now :)
I dont get it why Scabus are retired but Scabergys aren't. - Cloud9253
It all depends which fruits grow in Gadgadsbogen, sometimes a certain fruit does well, other years it may not griw at all.



If the explore map says Terror Mountain, why does it go to Happy Valley instead of Terror Mountain when you click on it? - Annelson10
Because Happy Valley is at the bottom of Terror Mountain.
If you ever change the designs of the pets, will they be changed back to normal colors, even if we have them painted baby, or will they stay the same? -Neolover_3_0_0
They will remain whatever colour they were painted, they will just be the new versions of that paint brush.
Hello! I was reading the updates and I happened to see an article about none other then a POCKET NEOPET!!!!! Yay!!! :-D In the pictures, there appears to be a small Aisha on the box, so I was wondering if they will be available in any other neopets? (I.e: Shoyru, Kacheek etc etc) Thanks!! -__animals__
Yes there are many species planned, look in the merchandise section of the site for more info.
Can we send photos via Neomail?
No, Neomail is text only I am afraid.
Its been ages since the last DoN's quest, when will there be a new quest? - Mahjong_addict?
Yes, one should start next week.
I'm a huge Kyrii fan. (No surprise there.) So naturally, I noticed for a while now that there are no Green or Blue Kyrii morphs. Is there a way to bribe Kauvara into brewing some up? --*Meggiemufin*
Hmm.. I will see what I can do :)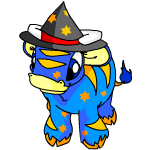 Will Jazzmosis play their Xmas Special next year too or was it a one-time event?
They have not announced whether or not they will play again this year. For now that was just a once in a life-time experience :)
Why isn't there a Mastermind collectable card? you have all the other Neoquest bosses. Mastermind is the only one without a card.
Good point... I will get one made right away.
Is there such thing as a NON headless Von Roo Plushie??? I've looked everywhere but all they have is headless. -ronnie6129135
No, there wasn't although there is now :)



Now that you have toilets, shouldn't you have sink so that neopets can wash their paws? - Trinitia
Of course... expect sinks later on this week.
---
Need more help?
If you have a question that you think should be answered here, e-mail it to editor@neopets.com. The most common/bizarre questions will appear here next week.