Editorial
When I go to the main shops, it says you can still haggle, but I can't work it out. How do you do that?
The haggling begins as soon as you click on an item you wish to purchase. The shopkeeper will ask you how much you want to pay for the item and you need to enter a price you think is fair. The shopkeeper will then reply to your bid and hopefully you can reach an amount that you both agree on.
If you buy multiple Neopets items at Claire's and Limited Too, does that mean that you get multiple rare item codes because of each item?
Yes, every pack of stickers and every notebook has a rare item code in it.



If you don't log in to your account every day will the account be deleted?
No, the account will stay there until you next log in, regardless of how many Neopoints you have. The only thing that will happen, is that your Neopets will become hungry if left for too long.
Do you think you will ever make it where Neopets can breed?
In all honestly no, we will not do that. There are too many issues that arise, plus drawing every combination of species in every colour combination would be an absolute nightmare.
Wham or Duran Duran?
Duran Duran without a doubt - come on 'Hungry like a Wolf' rules!
I've been watching the "About Us" page, and what's up with Matt the Angry Program (who gets even angrier when you feed him ____) and there's always a different word there?
Poor Matt just discovered he is allergic to a wide variety of different foods. We just put them on the 'About Us' page to annoy him :)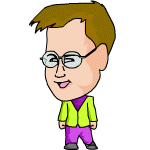 Grr... I HATE sea bass
Is the Rainbow Fountain coming back?
No, we do not intend to bring that back. There may be new sponsor related things in the future, but not the Rainbow Fountain.
Can you get your weapons higher than level one?
Item levels do not do anything. It was something we were going to add when we first started coding the battledome and we just forgot to take it out. There is no way to raise an items level and it wouldn't give you any advantage anyway.
I have seen pictures of Christmas Wockys, but when I went to the Rainbow Pool, I found it wasn't listed. Can you or can you not paint your Wocky Christmas?
No, you cannot. There was a Christmas Wocky that was drafted, but we didn't like it. Maybe nearer Christmas a new version will be done, if you can paint your pet a certain colour it will appear on the rainbow pool list.



What happens to discarded items?
They are completely removed from the game.
Why is there no merchandise with a Uni on it?
There are only a few pets on the merchandise on sale in Limited Too as we are only doing a few items with the, there will be many more designs featuring lots of new pets. Plus we have something top secret in the works that features a Uni (although we can't tell you what for another few months yet).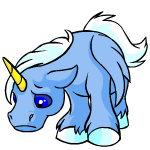 *sniff* I'm left out of everything!
Do Chias have eyes?
Yes, but they are very narrow and are more squinted than other Neopets.
Can you really get your account frozen for actually counting the potatoes in Potato Counter?
Ha ha, no, although the faster you are, the more Neopoints you get, so it's often better to just guess.
Will the Cyodrake turn into a Draik?
Nope, they are not related in anyway!

Why don't you have a link to the UK Claires store locator anymore?
Erm... well so many people went to their site that they asked us to take the link off. Apparently we sent so much traffic it overwhelmed them :)
What date will Neopets stuff go on sale in the UK?
We are trying to get those now, as soon as we know we will post them in big bold letters on New Features :)
What kind of Faerie is Illusen?
She is an Earth Faerie.
---
Need more help?
If you have a question that you think should be answered here, e-mail it to editor@neopets.com. The most common questions will appear here next week.