Editorial
The last four or five neopets have all been limited edition. Will the Draik and Ixi ever be available to everyone?
Ahh... so you want to get hold of one do you, well you will just have to wait and see :)
Will there be anymore Defenders of Neopia challenges and if so, when?
Yes, more are planned. There should be a new challenger popping up every other week or so.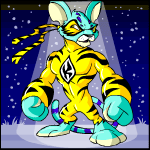 Your graphics are so awesome! What program(s) do you use to make them?
Aww shucks, thanks. We use several different programs depending on what we want to end up with. Mainly its Flash (by Macromedia) or Adobe's Photoshop, but other programs are sometimes used from time to time.
When I looked up the nearest Claires stores near me, I found that they just didn't list Claires stores, but other stores like Icing and Afterthoughts. Will Icing and Afterthoughts sell the Petpets merchandise too?
Nope, sorry we are only in Claires.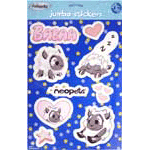 I would like to thank neopets soooo much for putting neopets merchindise in Claires! But there is just one thing since we didnt have a chance to get the disco Aishas....willl they be coming to Claires?
No, Disco Aisha was an event piece for Limited Too. There will be special event pieces for Claire's. Keep watching the Merchandise Updates page for more info.
What does a Robot Moehog look like and why can't we get them?
The Robot Moehog is available exactly the same way all the other Robots are. They are extra special and are very hard to get hold of. If you are lucky the lab ray may turn your Neopet into a Robot, but that is pretty much the only way it will happen.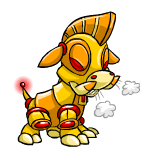 I'm Special!
Will Neopets be on sale in Australia or anywhere else in the World?
We will definitely be selling merchandise in Australia some time this year, although I can't say when or where at the moment. (shhh... its a secret)
Do Cobrall daggers increase your chance of your petpet helping in the Battledome?
No, the daggers are just weapons. They have no effect on the petpets.

Sometimes I feel like I'm the only boy on neopets. Let me guess...I am aren't I?
Aww... don't feel like that. We have loads of male players and I know so far we have only done things for girly shops, but I promise non-glittery things are on the way. Also the new world will hold a few suprises that our male audience will love :) (By the way, if you ever persuade anyone to go into Limited Too for you, there are a nice set of Sloth fridge magnets that Adam and I designed)
What makes your pet get ill?
A lot of things do. If you don't feed your pet the right foods or you don't give it enough food, if they are around other sick pets, if they go near any suspicious looking spinning wheels or if they are just really unlucky your Neopet can get ill.
What is an Aubergine?
Yuck. That is exactly what it is, purple nasty tasting yuck. I believe its called Eggplant in the USA although goodness knows why.
Thank you for finally bringing out merchandise in the UK, I'm really excited and can't wait until August! But I was hoping for stuff related to the actual pets, as well as to the petpets... will merchandise like this ever be brought out in the UK?
Yes, we are planning to sell Pet themed things as well as Petpet in countries where you do not have access to a Limited Too.
I have a question. What is the difference between the dark faerie, the uber dark faerie and Jhudora?
Well there isn't just one dark faerie, there are thousands. Jhudora is one of many dark faeries. Uber faeries are less common, more powerful versions of the dark Faeries.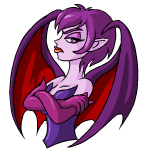 In the Price Changes area I saw that Bri Codestone had gone up in price. Exactly which store stocks codestones?
None of the official shops stock codestones, although they can be found in other players shops which is why they appeared in the price changes list.



It's not fair! In Limited Too and Claire's, you have lots of items on the Kougra, Aisha, Babaa, Noil, Angelpuss, and Doglefox. Will you ever have any items for other pets and petpets like the Blumaroo and Cirrus?
Yes, we will be doing lots of new lines (not just in Claires and Limited Too) that will features different pets and petpets. We have hundreds of petpets to choose from and will be using some of the rarer ones very soon (the same goes for pets).
Is the Scorchio Fire Marble a one use Battle Dome item or can you use it more than once?
The Fire Marble is multiple use. It will not break.

Can you skip the first mission in Defenders of Neopia and go to the second mission?
No, sorry real heroes don't abandon innocent Neopets to their fate. You must help each person in turn to become a true defender.
As I was reading in your first Neopian Times Edition, you said that someone can order plushies from the neopets website. I was wondering where I can go to order one and how much are they?
I am afraid you are referring to a very old news page. That was when we started off selling a limited number of plushies online. It was just a trial run to see how things would go. At the moment you can only buy T-Shirts online (there is a link to this from our front page), although if we plan to sell anything else this way it will be announced on the New Features page.
Is Chia Flour permanent?
Yes, well unless you paint your Neopet or give them a morphing potion.
When you put a furniture in your Neohome it says put in unnamed room 1, how do you name the rooms?
This (along with many other questions I get sent in each week) is answered in our help section. Just click on 'Help' in the yellow side bar and enter the word neohome or room in the search box. This will then bring up a list of questions, click on the one that you want to see the answer to.
Hi, I am a neopets user and when I go to the petpet puddle it has a painted kadoatie. I liked the look of them but when I look them up it didn't find any search results. I was wondering, what exactly is a kadoatie and why isn't it in the neopets search engine?
Kadoaties are petpets sold in the normal petpet shop. They are very rare which is why they will not appear in the shop wizard or the search box (we don't want to give everything away now :) ). They should be around 18-20,000 NP and their basic colour is blue.

This thing running rampant in people's look-ups and on the trading post where they "have a secret", and need you to send them a codestone or another such item to get it, is that against Neopets? Is it ok to do?
No, it is not Ok to do. It is scamming innocent players out of items for something they don't even have. Anyone we find doing this will be frozen (if you see any of these, please report that user to abuse@neopets.com. If you really want to find some secrets or hints, check out some of the really cool fan sites or messageboards. If its a site/board/post that is really worth reading it will not try to scam you out of items, ask for your password or anything like that.
I went to Limited Too recently to check out the Neopets stuff, and I was going to buy the stickers for rare item codes, but I didnt see anything about that marked on the packaging. Do only some stickers have the codes?
There is a rare item code symbol on the front of every package of stickers. All stickers have a rare item code.
---
Need more help?
If you have a question that you think should be answered here, e-mail it to editor@neopets.com. The most common questions will appear here next week.