Headlines
The Whirlpool has Stopped! Who Flushed?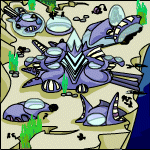 Today, epk stands for emergency press (insert k-word here). Because Maraqua's whirlpool has stopped. With Koi Day recently ending, I was unable to interview most Kois, however my own personal Koi allowed a few words before exploring it himself... more>>
Other Stories
A Baby-sitters Worst Nightmare
Just recently Baby Neopets were introduced to Neopians, for some it was a very wonderful development but for others well... it was a nightmare.
---
---
---
---
---
---