Headlines
Yuck! I'm Not Eating One Of Those!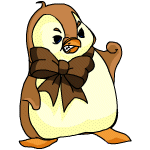 During my first week or so on NeoPets, I obtained a Strawberry and Cream Fish Pop from the Igloo Garage Sale. Like the ignorant Newbie I was, I thought it would make a nice treat for my young Bruce. After all, Bruces are like penguins, and penguins love fish, right? In my eagerness to feed my pet, I failed to notice the words "Gross Food"... more>>
Other Stories
After Dark
A dark figure looked up from the clearing as a huge red Eyrie, highlighted by the setting sun, circled and then came down for a landing.

by scriptfox
---
---
Neopian Astrology
Another week has passed and with that comes a change in the stars. What does this week hold in store for you?
---
---
---
---