Headlines
Eating - Neopia's Favourite Pastime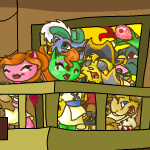 It seems as if all Neopia cares about these days is food, food, and food. Like there's nothing better to do but go to Krawk Island and visit The Golden Dubloon. Yeah, so pull up a chair and have another bite to eat, but remember to bring your Dubloons as this new restaurant won't accept your Neopoints.
Other Stories
The Armoured Neopians
"I just can't wait to tell Mum how I got a super bonus in level!" shouted KnightKougra.
---
---
It's All About Food!
...by encouraging Neopians to spend on exotic foods, we help clear the already saturated food market.

by vlee11
---
---
---
Kougras'n'Fuzzles
Oh no! Chiazilla and Mechachiazilla have teamed up to destroy Neopia!
---