Editorial
Once you paint a petpet, how do you get it back to its original colour?
You need to get another petpet paintbrush and paint it again. For example if you have painted your Geb pink, you will need to get a yellow petpet paintbrush to return it to its former self.



Why was the Fruit Machine taken down?
There was a bug that people were abusing, so we took it down to fix it.
Why was there so little going on over Christmas?
Contary to popular belief, we are human too and we all had to spend some time with our families over the holidays. This meant that often there were just a handful of people working on each day, so less was added. Don't worry as we are now all back to work and you can look forward to lots of cool new stuff coming soon.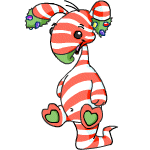 My account was frozen for using the fruit machine, thats not fair!
Yes it is, you were abusing a bug to cheat. It is not fair to get Neopoints or items through cheating. We only froze people that had attempted to cheat the Fruit Machine over 1000 times. It is highly unlikely that anybody could 'accidentally' hit the enter button 1000 times, so no, you will not be getting your account back.
What is the difference between a Fuzzle and an Evil Fuzzle?
Its quite simple, one is evil and one is not :)



Whats going on with Lenny Conundrum?
Good question... *nudges Adam* What is going on?
My account was frozen, is there anything I can do to get it back?
Chances are that you know exactly why you were frozen and you will not get your account back. If you honestly have no idea, just email frozen@neopets.com and one of our support team will tell you. I suggest not using the 'it wasn't me it was my brother/my cousin/my friend/my goldfish' excuse as it will not get you any sympathy and we hear it hundreds of times everyday. The best thing to do is just to tell the truth, although it is pretty unlikely you will get your account unfrozen.
---
Need more help?
If you have a question that you think should be answered here, e-mail it to editor@neopets.com. The most common questions will appear here next week.