Headlines
No Neggs? No Problem!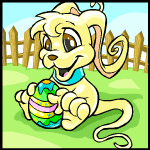 With Easter right around the corner I can imagine that most of you Neopians out there are busy decorating your Neohome with fresh spring flowers and little plastic trinkets fit for the season. For many of you, buried beneath that cheery expression on your face is probably a fear that you won't be able to afford any Easter neggs this year... more>>
Other Stories
A New Hero
"Well, Nathaniel, you're 15 -- you're growing up. And I thought that since you were growing up, you deserved this -- Happy birthday, son!'
---
Sound Sleeper
Rasco's teacher made an important announcement. "Today, class, we're going to be taking a little field trip." There were shouts of excitement from the class and Rasco continued to doze.
---
Keeping Your Meepit Juiced Up!
Though, at times, it can be difficult to comprehend what types of juice your Meepit likes to drink, the correct quantity of juice you should provide your Meepit and what time of the day is the correct time to serve it.

by blubblub317
---
---
---
---