Headlines
Give 'Til It Hurts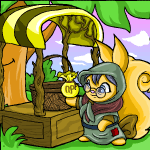 If you are anything like me, you are absolutely SICK of having Neopoints. I mean, everywhere I go it's Neopoints this and Neopoints that -- I can't even walk my pet rock anymore without hearing people haggling in the streets... more>>
Other Stories
The Nameless Faerie
Why? Why would she be sad, despite leading a life much more fortunate than others? Why should she be complaining, of all the things she had? Just why? The answer lies in her identity.
---
---
---
---
Lab Ray: Part One
People from all over purchased the Neopian Times that pleasant, sunny day; and why shouldn't they? This was a once in a lifetime chance.

by chipster33
---
Storm Eyes: Part One
The dream, she'd had that dream again. Shaking, she got up and went to the mirror. The reflection that peered back at her was that of a somewhat shaken silver Zafara.
---