Headlines
Eata Loafa Breada Day!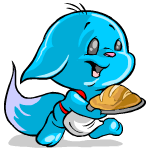 This week's issue is brought to you by: The Bakery
Other Stories
To Judge a Book
"You're not going anywhere until I tell you about this really ugly mutant I saw in the bathroom!"
---
---
Politeness at the Trading Post
Here I'll list not only my mistakes, but many others and how to improve what you have been doing in the past, and how you can definitely win that golden opportunity.
---
---
Drake: Part One
"Orphans are not permitted inside the castle, unless taken in by a servant, noble, or the king," I recited softly.
---
Friendship and Fudge: Part One
"Dumas, he's not coming..." said Squisito, staring at the brown Lenny through the courtesy of her mirror. "Close the blinds -- the heat's getting in. The humidity is going to wreck my hair."
---