Headlines
Test Your Battledome Weapons On Poor Bob
Punchbag Bob is now available to all players in the Battledome. Beat him as many times as you like, and test out your weapons on him! Don't worry, he doesn't have any feelings... so, feel free to kick the stuffing out of him.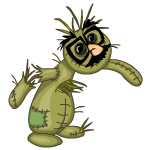 Other Stories
In a Pickle
As they were walking through the Dark forest they heard strange and scary noises; Weird and ugly animals, and mushy and disgusting swamps...
---
Mount Usulin High
Another Usul raised her hand...."Umm it's like when you like totally put like hair spray in you like add like gel and like sparkly stuff Teehee!!"
---
---
The Big Spender
If you play a lot of games, earn a lot of money, and still have an empty bank account, this guide was made just for you.

by m1rina1
---
---
---