Headlines
Fruit Stuck in Machine
Roll Up... Roll Up, it's the one and only NeoPets Fruit Machine. Give it a spin and see what you get. You never know it could be something worth your while...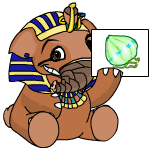 Other Stories
In a Pickle
As they were walking through the Dark forest they heard strange and scary noises; Weird and ugly animals, and mushy and disgusting swamps...
---
Mount Usulin High
Another Usul raised her hand...."Umm it's like when you like totally put like hair spray in you like add like gel and like sparkly stuff Teehee!!"
---
---
The Big Spender
If you play a lot of games, earn a lot of money, and still have an empty bank account, this guide was made just for you.

by m1rina1
---
---
---