Headlines
Here's to YOU!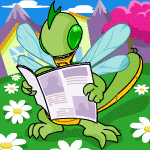 The Neopian Times is known for it's great articles, stories, comics, and series, written by many talented people. Just as important, however, are the readers of the NT. Often, I've wondered about the readers of the Times and how much they impact the authors and artists... more>>
Other Stories
---
Fallen: Faeries
"Okay, little Cybun, I'll send you to see an Uber Faerie. Just don't blame me if you come back out with less limbs than you started off with."

by oily106
---
Pound Top 10
While randomly looking about myself, I kept noticing that a lot of pets at the pound were of certain breeds.
---
Caring For Your Human: The Basics
Since their first mysterious appearance in our world a few years ago, humans have multiplied like Snowbunnies, and seem to have made themselves a permanent presence in Neopia.

by tdyans
---
---
---