Hello and thank you for joining us as we present this week's edition of The Neopian News Brief, your one-stop guide to all the latest events happening throughout Neopia, from the cloudy confines of Faerieland to the scurvy sands of Krawk Island. There are quite a few stories to cover this week, so let's not delay any further!

Throughout the past week, a wide range of new NeoPets accessories were released, perfect for adding that extra Neopian touch to your User Lookup, Pet Page, or Internet communications. It all began on Tuesday, when four new fruity Chia Fun Images were released, along with a handsome quartet of Lost Desert NeoGreetings, perfect for sending to those living in less idyllic climes.

However, if dancing lemons, sleeping gooseberries and yoyoing tomato Chias aren't exactly your thing, you could always spice things up with some petpet Fun Images, which were released on Thursday. Along with animated images of Hasees, Slorgs, Barbats and Anubi, new Scorchio and Techo animations were also introduced.

Topping things off, also on Thursday, were three more Buddy Icons, depicting Usuki Frenzi, Defenders of Neopia and (our personal favourite) Kiss the Mortog. With so many new accessories to choose from, there's no excuse not to liven things up a bit, so hop to it!

As always, this week the Toy Shop had plenty of newsworthy releases for us to discuss. Leading off their latest string of products was Tuesday's debut of the Candychan plushie. Understanding that not everyone can plunk down the kind of NP that it takes to land a real one, the Toy Shop now brings you the next best thing.

Also available, as of Friday, was an adorable baby Wocky plush toy, which is sure to be popular with collectors, so snatch one up if you can. Lastly, in a move that is sure to drive snowglobe completists up the wall, it was announced on Wednesday that from now on, if you play with them too roughly, Faerie snowglobes will have a tendency to break (Great, my idea for putting together a snowglobe gallery has just officially gone out the window!).

Along with the toys, another perennial collector favourite, stamps, were back with a vengeance this week. A trio of stamps based on the Meridell/Darigan war (depicting Lord Darigan, Master Vex, and the Orb) were made available on Wednesday. Sporting rarities that are in the mid-to-low eighties, these stamps might put a slight cramp in your budget, but no serious collector would be caught without them.

Not to be outdone, Friday brought us three more stamps, this time presenting likenesses of such varied Lost Desert topics as ummagines, Gebs, and the Royal Palace of Sakhmet. To all you stamp collectors out there, good luck finding them!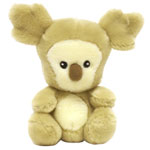 There are also a pair of developments to report from the merchandising front. First up is Monday's announcement that petpets will soon be coming to a Limited Too store near you. They're already on their way, so you should soon find Harris, Kadoaties, Brown Doglefoxes, White Doglefoxes, and Babaas turning up on the shelves of your local LTD2.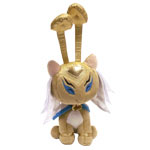 Also causing quite a stir is one of the most highly anticipated releases in recent memory, Saturday's arrival of Desert Aisha plushies at Limited Too. Each store will be receiving approximately ten Desert Aishas each, along with ten Rare Item Code cards, which will be given to the first ten people who ask for them. If you intend to get one, you'd better hurry on over to Limited Too and pick one up, because it's safe to say that supplies won't last long.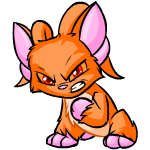 After practically taking the previous week off, the Rainbow Pool has returned to form, hopping once again with all sorts of new paint brush styles. Kicking things off on Tuesday was the debut of purple Ixi, which was followed on Wednesday by glowing Unis. Thursday brought yet another new PB style as pink Eyries were unveiled, and we rounded out the week with a pair of new PB's on Friday, as orange Acaras and split Grundos got their release. In other paint brush related news, it was announced on Monday that, from now on, Faerie PBs would be on sale in the Hidden Tower for 200,000 NP. Why, is that all? I think I'll get two ;)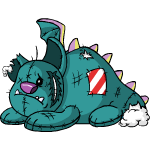 It's now time to take a closer look at today's financial news. After back-to-back losses of more than forty points, many investors sought to pick up some bargains before the economy started to bounce back. After all, the Neodaq was at its lowest value in nearly six months; things could hardly get worse, right? Wrong. Not only did the economy not bounce back, but it actually fell another staggering 120 points, dropping all the way down to a measly 744, its lowest weekly close since November 15th of last year. Among those taking losses, Skeith Bodyguards took the biggest, plunging an incredible forty-nine-points to wind up at seventy-eight NPs a share.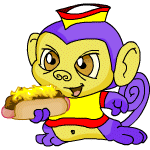 Despite such a colossal decline, SKBD still managed to hold on to their spot as the most valuable company on the board. However, the days of Skeith Bodyguard doubling up their closest rival appear long gone, as Neopia's #2 company, Hubert's Hot Dogs, is only sixteen NPs a share beneath them. This is largely due to the fact that, while most of the companies on the Big Board were getting slaughtered, HUW actually managed to pick up thirty-five-points this week, leading the way among that small handful of companies posting a profit. Also amidst those lucky few was The Smuggler's Cove, who put up a sixteen-point gain and finished up as the economy's fifth most valuable company, right behind the once-mighty Peophin Water Parks and Shop Wizard N-Commerce (who lost nine and nineteen NPs a share this week, respectively).
So then, now surely has to be the ideal time for the Neopian economy to begin its comeback, right? That would certainly seem like the case, as it's hard to imagine the Neodaq falling any lower. Then again, you could've said the same exact thing last week....