Hello and welcome to this week's edition of The Neopian News Brief, your all-in-one summary of everything that's been happening in the world of Neopia, from the sandy shores of Mystery Island to the frosty fields of Happy Valley. We've got some great new topics to discuss today, so let's get right to it!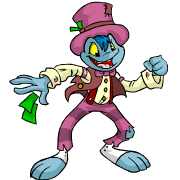 Our lead story this week is the arrival of Sidney the scratchcard salesman in the Battledome. Have you spent tens of thousands of Neopoints, hoping to get your eager little hands on a Rotting Riches or Pustravaganza scratchcard, only to be left with dozens of Crypt of Chance cards that you ended up dumping below cost? Feelin' kinda burned, eh? Well, now's your chance to get some revenge, as Sidney the scratchcard salesman has taken some time from his busy schedule to leave the Deserted Fairgrounds and visit the Battledome. Beware, though... Sidney is no pushover. Weighing in with a wicked arsenal that includes a demonic bow, dusty magic broom, and the deadly "1-2" attack of his bow tie and top hat combo, this sneaky salesman will pose a formidable challenge to all but the toughest Battledomers.

Stamp collectors had reason to rejoice this past Tuesday, as an excellent trio of new NeoQuest stamps were released. Throngs of enthusiasts rushed the Post Office Kiosk, all hoping to find a few new additions for their ever-expanding collections.

Luckily for us, these stellar new stamps featuring Mr. Irgo, a black Bearog, and the Archmagus of Roo come with reasonably low rarities (between fifty and seventy), which means that once the hysteria has died down a bit, adding them to your collection should be relatively painless. Now, if I could just save up enough to score one of those shiny Monoceraptor stamps... *sigh*

In a surprising turn of events, there was very little action at the Rainbow Pool this past week. However, maybe that's because there was so much happening over at the Petpet Puddle, which was overrun with all sorts of exciting new happenings. It all began on Monday, when the brand spankin' new glowing petpet paint brush was revealed, along with the first four petpets to "get the glow"--Wadjets, Miamice, Babaas and Zumagorns.

That was followed on Tuesday by the arrival of four new Faellie colours (pink, blue, green and brown). Rounding things out, Thursday brought us a quartet of new spotted petpets (Harris, Barbats, Bilguss, and even GX-4 Oscilladroids!) In other big petpet news, Tuesday saw the transformation of Isnewees into an adorable new petpet... everybody give a nice, warm welcome to the Mazzew. Yay!!!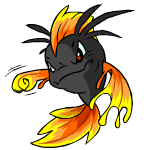 Okay, so we know it's a little early and all, but seeing as Koi Day fell on a Sunday this year, we decided to kick off the festivities slightly ahead of schedule. You know, it seems Koi have had plenty of reasons to be in an awfully good mood lately. First there was last week's announcement that some strange occurances were being reported from their former homeland of Maraqua (might we even dare to begin speculating what that could be about?). Now, they get to bask in the glory of celebrating Koi Day... what a lucky bunch!

As always, Koi were bestowed with the usual entitlement of pet day treats: books, foods, and Battledome help (weapons, moves, and two days worth of training from Cap'n Threelegs). Koi also received two new paint brush styles (checkered and fire), as well as a trio of spiffy baloons from the Toy Shop, and a stunning slew of Fun Images. To top it all off, Koi were also featured in this week's Pet Spotlight... congratulations!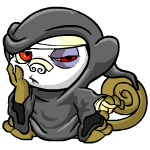 It's now time to take a closer look at today's financial headlines. After a month of bouncing up and down, it seems as thought the Neopian economy has, unfortunately, taken a turn for the worse. Following up last week's forty-four point loss with a disheartening forty-five point plunge, it now appears as though the Big Board could be in for some serious trouble. Surprisingly, the week's biggest loser turned out to be one of the few consistently bright spots for the Neodaq during the past month. After a tremendous run, which saw them put together four consecutive double-digit gains, the wheels came out from under Mynci Imports, as MYNC's shares absolutely collapsed, losing a whopping forty-two points in less than a week.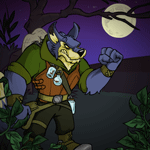 Also taking a huge hit was Balthazar's Faerie Bottling, which had held strong in the mid-50's before succumbing to a disastrous thirty-four point freefall, closing out the week at a measly nineteen NPs a share. Why, even the most valuable company on the board, Skeith Bodyguards, took their lumps this week, falling eleven points to end up at 127. However, despite this double-digit decline, SKBD is still fifty-five points more valuable than their closest competitor, the resurgent Shop Wizard N-Commerce. SWNC, as we mentioned last week, were expected by many to bounce back strongly after losing seventy-two points. Sure enough, they picked up an impressive thirteen points, to finish up this week at seventy-two NPs a share.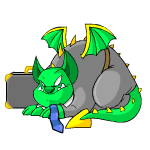 So then, with the economy in its current sad state, will ex-contenders like Mynci Imports and Balthazar's Faerie Bottling be able to get themselves together and lead another charge? Should Shop Wizard N-Commerce's latest rally be taken seriously, or was this merely a last grasp at glory before sinking into the abyss? Can any of the half-dozen companies in the 25-35 NP range be expected to rise up and contribute, or will Skeith Bodyguards be forced to carry the Neopian economy on its back? We'll just have to wait and see....