Welcome everyone to the latest winter edition of The Neopian News brief, where we explore all the wonderful new things happening in Neopia. This has been an action-packed week, so let's get started!

Most notably, the war in Meridell continues raging on. The forces of Darigan have come from behind to take the lead in battles won. Currently Meridell is behind by over 100,000 points, but with the war not ending until the 24th, anyone could be the victor!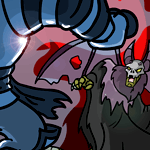 On Tuesday, Lord Darigan himself came come down from the citadel to battle among his followers. Panicking at the prospect of defeat, King Skarl released an ancient spirit from the depths of Meridell castle. These new opponents are worth a whopping 100 points for each victory, but with good reason. Meridell's ghostly defender has managed to defeat all but the strongest pets with his awesome arsenal of weapons.

Those that found themselves overpowered by the newest wave, will find plenty of new and interesting things in the shops of Neopia Central. Following the update of the old Lupe plushies, users were in for a treat this Friday when no less than FIVE new Lupe plushies hit the market. These adorable new items come in electric, fire, cloud, starry, and the elusive Faerie color. These delightful pups will no doubt be a popular gift item this holiday season!

Speaking of cute items, not even the new Lupe plushies could overshadow the new Faerie Kougra items were added on Thursday. Perfect for any Kougra lover, there is now a mask, nail polish and a wonderfully adorable Faerie Kougra plushie now available in Neopian stores.
For pets who enjoy the great outdoors, but are feeling a bit conspicuous walking around in a bright blue coat over the snowy ground, help has come! The Shoyru and Eyrie are now available to be painted white! Yes, now you'll never know where that rogue snowball came from, as these playful pets will seem to disappear against the horizon.

As if you could stand any more cuteness this week, who should arrive, but a new baby pet? That's right, you can now paint your Ixi baby at the rainbow pool! These active little creatures are sure to be a handful, but one look at those big eyes and happily shaking tail, and you'll have one in your home before you know!

Now for the stock report.
It's been an interesting week for the stock market this week, a lot of big gains and losses. Most notably, Boda Furnishings Inc skyrocketed this week (lucky you who bought it!) Gaining an impressive 30 points in just one week! On the downside, Virtupets stock that has been enjoying a steady incline since the end of November dropped sharply this week with a 20 point loss.

Still continuing its steady rise since November 8th, The Neopian Auction House continues to astound investors. This week it reached unbelievable 244 points at the time of this report! How the stock progresses this week will certainly be interesting as stock holders grow concerned as to wether they should sell and risk a drop, or keep their stocks and see how high it goes!