Hello and welcome to our latest installment of The Neopian News Brief, your weekly summary of all the biggest stories from the world of Neopia. These past few days have been very busy, so there's quite a bit of ground to cover. Let's get right to it, shall we?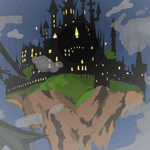 Leading off today's news, once more, is the battle that continues to rage on between the forces of King Skarl and the mighty combatants from Lord Darigan's citadel. During the campaign's first week, Meridell had built up what seemed like an insurmountable lead. However, Darigan's forces began a rally during week two that has yet to let up. So then, as the conflict reached its third week, King Skarl's lead had been reduced to seven hundred thousand points.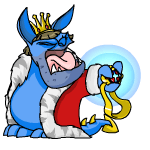 Desperate to stem Darigan's ever-increasing momentum, King Skarl himself entered the fray on Monday. Sporting a powerful arsenal that includes his mighty amulet and sceptre, Skarl posed quite a challenge to the citadel's army. However, it seems that Lord Darigan had quite a trick up his sleeve. Rather than joining in to meet his arch-rival, Darigan has cast a spell upon the very stones of the citadel itself, causing it to rise up in the form of... Darigan Elementals!

Despite a valiant effort by Skarl, the citadel has continued to gain ground, cutting Meridell's lead all the way to three hundred thousand. As the weekend arrives, will Lord Darigan's army pull even against Meridell? Or will Skarl's forces be able to finally break their opponents, once and for all? I guess we'll just have to wait and see...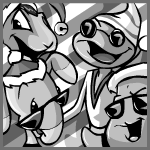 While most Neopians remain preoccupied with the war, there are a handful of folks who've already begun turning their attention to the holiday season. Those with the Christmas spirit will be glad to hear that Jazzmosis, Neopia's leading polyrhythmic ensemble, have signed on for a special holiday engagement at the Tyrannian Concert Hall. In searching for an act that would generate lots of excitement, the hall certainly made a wise choice by bringing in this renowned jazz combo.

Jazzmosis have vowed to add a dash of holiday spirit to their unmistakeable mix of swinging beats, wild improvisation, and eclectic instrumentation. This is sure to be one of the season's hottest shows, so hurry up and get your ticket before they're all sold out!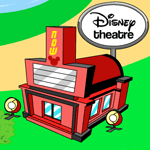 Also creating a stir this week was the debut of Disney Theatre, a luxury cineplex unlike anything seen before in Neopia. Ever since construction began, there had been lots of speculation as to what would be going up next to the Post Office. Well, on Thursday all the rumours were put to rest, as the theatre opened its doors to the public. During your visit, you can either stay in the lobby and play the latest Disney themed games, or pop by the screening room to watch trailers from new releases like Treasure Planet and The Santa Clause 2. Yay!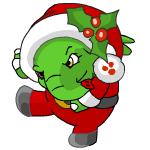 With the holidays fast approaching, Pets and Petpets alike have been anticipating the opportunity to get their mitts on a Christmas Paint Brush. Considering all the new holiday styles that have come out recently, can you blame them? This week saw two more species become available in a Christmas style (Elephante and Zafara), while a quartet of Petpets (Peo, Snarhook, Acko, and Horus) got a little mistletoe with their makeover.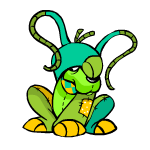 However, the holiday look wasn't the only style on display this week, as there were plenty of other reasons to visit the Rainbow Pool and Petpet Puddle. For instance, a trio of pets became available as plushies for the first time (Flotsam, Draik, and Gelert), plus the orange Ixi was unveiled on Wednesday, which is certainly nothing to sneeze at. Ackos also got in the act, adding four more styles (blue, black, red and spotted) to the Christmas style that was mentioned earlier...

They might not be able to use paint brushes yet, but one thing's for sure... Neopia has gone head over heels (or, in some cases, head over hooves) for Happy Valley's new Wintery Petpets! After the stunning sales generated by the shop's initial arrivals, a quartet of new species were brought out on Wednesday.

It won't be long before your pet is asking, "How much is that Yullie in the window?" Or maybe a Polarchuck is more their style. Whether they prefer a Jinjah or Candychan, any of these Petpets is sure to make a perfect present for your pet. C'mon, whaddya say... can they keep 'em?

Just when you thought you'd recovered from the madness of Bruce Day (Oh man, I could tell you some stories!), along comes an extravaganza that totally destroys any other holiday in recent memory. Ranking right up there with the all-time great Neopian parties, like the first Cybunny Carnival, Gadgadsbogen Y2, and the notorious 31st of Collecting Y3 (don't even go there, J Boogie!), this year's Wocky Day proved once and for all why the Wocky motto is, "Wock 'til you drop!"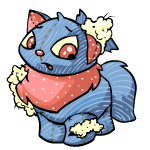 Thanks to the Wocky Shuffle, all of Neopia was nodding, shrugging, wiggling, and stepping (except Mr. Insane... we're not exactly sure what he was doing) well into the wee hours. And why shouldn't they? Wocky Day was loaded with a truckload of treats for all Wockies, starting with the usual assortment of books, baked goods, and Battledome gifts (weapons, moves, and free training). Wockies also received two new paint brush styles (plushie and Christmas), and had both Fun Images and NeoGreetings released. Additionally, Wockies were featured in this week's Caption, Poetry and Site Spotlight contests, as well as receiving a special in the Art Gallery. Wock on!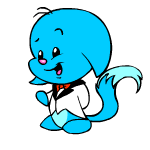 Now, it's time to take a look at today's top financial headlines. With the Neodaq posting a gain for the sixth consecutive week, many analysts have declared that happy days are, indeed, here again, and have begun calling this phenomenal run the beginning of a golden era for investors. The Big Board posted its biggest weekly gain during the streak, besting last week's 113 point rise with an even more impressive 122 point catapult.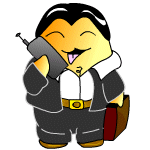 However, there's a growing rumble among a small cluster of naysayers, who are sure that it can't last. "C'mon, fifty points for Faerie Clothing?" one broker said, speaking on condition of anonymity. "I don't ever remember them turning a serious, sustained profit. And PDSS? Don't even get me started! The valuations are all out of whack, and it won't be long before the Peadackles have come home to roost..."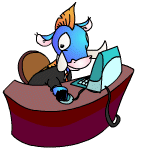 Adding fuel to the doubters' fire is the fact that this week's biggest gainer is PD Secure Storage, a perennial also-ran in the Neopian economy. Since May of 2001, PDSS has only finished above twenty NPs a share once (June 8th, 2001), and before this week's unbelievable twenty-six point leap, the company's highest gain for a single week during that span had been twelve NPs (June 1st, 2001). So, it's hardly a surprise when allegations start to surface, claiming that the company might not be playing fair. Although no one will come out and make an accusation, a covert whispering campaign against PDSS has already begun to wind through the floor of the exchange.
So then, is the sudden rise of a company like PD Secure Storage just a sign of the "new economy"? Or could it be early evidence that serious danger lies ahead for investors? Only time will tell....