Hello and welcome to this week's edition of The Neopian News Brief, your one-stop source for everything that's happened in Neopia during the past few days. It has been a long time since things have been this busy, so there's a great deal to cover. Let's get right to it, okay?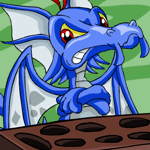 Our lead story this week is Meristones, an exciting new strategy game from Meridell. Based on an ancient game called "Mancala," the object of Meristones is to finish play with more stones in your home cup than your opponent. Sounds easy enough, right? Well, not so fast... at first it can be very complicated. If you place too much emphasis on filling your home cup, the Draik might be able to hoard their stones and leave you with none to play. On the other hand, if you try to stockpile your stones, you could be forced into taking a move that passes too many stones onto your opponent's side of the board. The key to winning is a balance of strategies, which maximises each move and plans ahead to keep from getting captured. Good luck!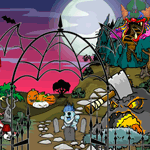 Also creating a great deal of excitement was Thursday's discovery of the Deserted Fairground. Deep within the Haunted Woods, an abandoned carnival lot looks like it was once the home of some very exciting activities. However, due to some mysterious circumstances, it appears that whatever used to happen on these grounds has fallen upon hard times, crumbling into decay and disrepair.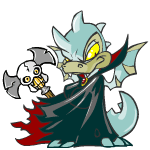 Nowadays, a handful of shops remain on the premises, giving an indication of what the fairground used to be like. Offering an impressive assortment of spooky weapons, furniture and foods (just a thought; checking the expiration date on those food items might be a good idea), the grounds are also home to something called the "Wheel of Misfortune." Hmm, I wonder what that's about?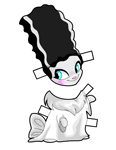 In more scary news, Monday saw the release of three Spooky Usuki dolls. No decent Usuki collection can possibly afford to be without a Devilish, Little Witch, or Bride of Frankenstein Usuki doll, so rush out and get yours now! Oh, we almost forgot... if that wasn't enough, on Tuesday, these three new costumes were added to the Usuki Super Fashion Playmate page. That way, even if you cannot afford to put them in your collection just yet, you can still print these costumes out and play with them at home.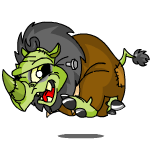 Another spooky development has been the huge number of pets receiving ghost or Halloween paint brushes. This past week, nine species started to appear as apparitions, while six more pets became truly capable of celebrating Halloween in style. It all began on Monday, when ghost Draiks and Krawks, as well Halloween Wockies, first turned up. This was followed on Tuesday by ghost Kikos and Halloween Tonu, Buzzes, and Gelerts.

Wednesday saw the arrival of Halloween Ixi and Jetsams, as well as ghost Usuls and Elephantes. On Thursday, Neopia said hello to ghost Peophins, Unis, and Quiggles. Rounding out the week was Friday's premiere of the ghost Tonu, which brought the total number of seasonal pets for the week up to fifteen... hooray!

On the merchandising front, this week held two significant stories. After originally popping up on the Neocam some weeks ago, Tuesday saw the official announcement that plush key rings would be going on sale at Limited Too this weekend. They'll be coming in four species (blue Aisha, pink Kau, blue Kacheek, and red Scorchio), so be sure to check the store locator and see if they'll be turning up at a LTD2 near you.

On Friday, all of Neopia was abuzz with the news that limited edition Harris Petpets would be arriving in Claire's stores in the UK on November 9th (Harris will hit Claire's stores in the US around November 23rd). There will only be around eight or so at each store, so be sure to call ahead and arrange to get yours.

Well, one bit of news that really has Neopia excited is Wednesday night's dreaded debut of... the Tax Beast! During the past few days, Neopians have scrambled to stuff their bank accounts with as much cash as possible, hoping to minimise the pain inflicted by a meeting with this plague upon Neopia's coffers.

Not that it's any consolation to those who've been on the receiving end of "a little visit," but on Thursday two pretty cool Tax Beast items came out. Now you can release your frustrations by pounding the stuffing out of a Tax Beast plushie, or wear the shame of getting ripped off on your sleeve by sporting an "I got taxed by the Tax Beast" T-shirt.

However, the Tax Beast isn't the only new random event to turn up this week. There's also a random event where, if your account has less than five thousand points, Illusen the Earth Faerie will bump you all the way up to 5,000 NPs. Also, another random event has been added where Meuka the mutated Meerca pops up and eats one of your food items, then leaves behind a yucky lump of snot... ewww!!!

In this week's installment of the continuing saga that is Neopia's stamp craze, Friday saw the release of four super rare Mystery Island stamps. All four of these stamps carry a rarity of ninety-nine, so if you're planning on adding them to your collection, you'd better be prepared to fork over a king's ransom. Each of these stamps also has some sort of bizarre characteristic, such as being misaligned, upside down or poorly printed, making them great conversation pieces.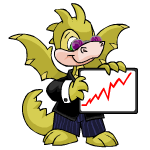 It's time now to take a closer look at this week's headlines from the world of finance. For the fifth straight time, the Neodaq has posted a loss for the week. After a reasonable sixteen-point loss the previous week, the index fell a slightly higher twenty-four points, coming into Friday's trading at 630. At this stage, investors have tired of predictions for a turnaround, and have begun to assume a "wait-and-see" stance.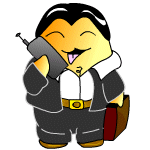 The economy appears to have ground to a halt, as only one company (The Neopian Auction House) has shares valued at more than twenty-one points. Yet, with nine companies rising past the 15 NP mark this week, there are now twenty-one companies who are tightly clustered between fifteen and twenty-one NPs a share. This would lead one to believe either that the time for bargains has never been better, or that the Neodaq is teetering on the verge of wholesale collapse. For those who see fortune beckoning them, beware that right now risks seem very high...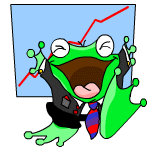 However, a handful of winners posted solid gains for the week. Leading the way among the lucky few was Powlex, one of nine aforementioned companies to go beyond the fifteen NP mark. The company's value rose more than 80%, as shares of POWL went from eleven to twenty NPs. It was also a good week for both Skeith Bodyguards and Skeith Feeding, which both climbed above fifteen NPs, and gained eight and six points a share, respectively.
So then, with share prices practically flatlining and the Neodaq hovering around the six hundred mark, has the economy finally reached the bottom of the barrell? Or will next week's news brief consist of telling investors what's lying beneath the barrell? Only time will tell....