Hello and welcome to this week's edition of The Neopian News Brief, your all-in-one summary of all the latest news from the world of Neopia. We've got quite a few things to cover, so let's begin...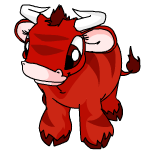 Our lead item this week is the release of Red Kau plushies. As we speak, herds of Red Kaus have begun to arrive at your local Limited Too store. Given the staggering popularity of recent plush releases like the Faerie Kougra and Cloud Aisha, these Kaus probably won't spend much time on the shelves before stampeding right out the door. It might be a good idea to call ahead and see if they're in before rushing over to pick one up. In other NeoPets merchandise news, it was revealed on Wednesday that, at long last, Petpet items would be arriving at all Claire's stores in the UK on August 28th. Hurrah!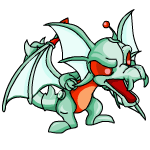 As we reported last week, Neopians have had plenty of reasons for flocking to the Rainbow Pool lately. Well, last week's wide range of new paint brush styles was followed this week by even more new releases. On Monday, purple Grarrls and pirate Kacheeks made their debut, while Wednesday saw the arrival of super-cool new robot Draiks. When you include the two new Grundo styles that came out on Friday (more on that in our discussion of Grundo Day), that brings this week's total to five new paint brush styles.

Paint brush fever has also hit the Petpet Puddle, as Triffins, Turtums and Walking Carpets got to join in on the fun. Monday marked the availability of green, purple and red Triffins, and Tuesday ushered in the premiere of pink, green and blue Turtums. Last but not least, Thursday saw the release of four new paint brush styles for Walking Carpets, which can now be found in green, yellow, pink and cloud.

On Tuesday, rabid collectors throughout Neopia celebrated the arrival of Usukicon 4. Needless to say, the convention was a smashing success, as Usuki enthusiasts were able to rejoice in seeing the latest Usuki collectables showcased.

Making the biggest splash at this year's Usukicon was the debut of three new dolls: Summer Fun, Meridell and Halloween Usuki. Also popular were this year's assortment of super rare Usukicon posters; be sure to snatch one up if you have the chance!

After a long day of wandering the convention floor, your pets will surely want to grab something to eat. Well, plenty of tasty new treats have been unveiled during the past few days. On Monday, Jhuidah the Island Faerie and her Magical Cooking Pot came out with four new delectable dishes. Do YOU know what ingredients go into making a heaping plate of blopple?

Discerning diners jumped for joy as Wednesday brought on the arrival of three new gourmet delights. If your pets are picky about what goes on their plate, and they've grown tired of chokato crepes and cabbage cup cakes, then rush to the Tropical Food Shop and pick up a fruity swirl souffle, chocolate orange volcano, or some scrumptious seven layer mousse.

However, if pretzels are more your style, then maybe you should swing by the Bakery, where four new deluxe pretzel styles made their debut on Thursday. You can now choose from strawberry, tigersquash, chokato and peach. Mmm... the Breadmaster's going to sell plenty of these!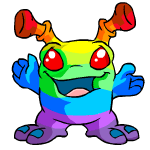 Rounding out the week, on Friday all of Neopia celebrated Grundo Independence Day. Has it really been two years since the Space Faerie rescued Neopia by reversing Dr. Sloth's mutation ray? Wow... anyhow, rather than wait until Saturday, the festivities were bumped up to start on Friday. Throughout the day, a vast assortment of Battledome weapons, treats from Grundo's cafe, and Grundo-themed books were released. Additionally, Grundos were also made available in two new paint brush styles (robot and rainbow). Woohoo!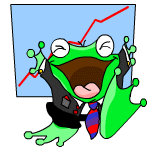 Now, it's time to check out today's top stories from the floor of the Neodaq exchange. The Big Board continued its recent inconsistency, bouncing back from last week's fifteen-point decline with a stunning sixty-six point rise. Leading the way during this latest resurgence has been The Neopian Auction House, which cemented its position as the Neodaq's top stock by leaping an incredible fifty-eight points, bringing their shares all the way up to 142 NPs each. By contrast, the Big Board's second most valuable stock, BOOM! Boom Boxes, managed to halt a torrid four week skid, leveling out to finish the week at 86 NPs a share.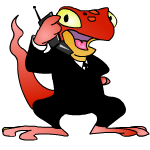 Another big winner this week was Böda Furnishings, whose value jumped an unbelievable 500%, skyrocketing from 6 NPs a share all the way to 30 NPs. Böda was one of five companies that managed to climb up over 15 NPs. Others who were able to resume trading included Kau Kau Farm and Chiatech Password Security. On the other hand, four more companies were unfortunate enough to dip below the dreaded 15 NP mark, including Buzz-A-Way Insect Removal, whose shares plummeted a disturbing eighteen points. This means there are twenty-six companies that are currently in limbo.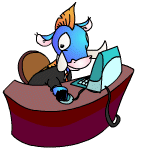 So then, what does the future hold for BOOM! Boom Boxes, now that they're no longer the bullies of the Big Board? Will The Neopian Auction House be able to keep their place on top, or will their reign be nothing more than a short-lived fluke? Will the Neodaq continue its erratic behaviour, or is this latest surge just the beginning of a long-term, sustainable Bull Market? Only time will tell....