Hello and welcome to this week's edition of The Neopian News Brief, your all-in-one source for the latest news from the land of Neopia. We've got plenty of new stuff to discuss, so let's get underway!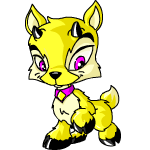 Our lead story this week is the surprising arrival of Neopia's forty-sixth species, the Ixi! On Thursday, two-thousand Ixi turned up in Neopia, all hoping to find a new home. Then, on Friday, these Neo-newcomers were awarded some Battledome moves and their very first paint brush colour (white). This marks the second time in three weeks that a new species has been unveiled; where could all these new pets possibly be coming from?

Also making headlines this week is a phenomenal craze that has swept Neopia. At the heart of it all are the tiny creatures known as Scarmanders, who began turning up in The Lost Desert Petpet shop on Wednesday. After they were immediately snapped up, a call went out for items that capitalised on the Scarmander's sudden popularity.

That's when a whole slew of products, ranging from Scarmander shields and blades to cookies and plushies, rushed to market on Thursday. It'll be interesting to see if the Scarmanders can join the elite ranks of favourite petpets, or if their fame will simply fade with time...

Speaking of The Lost Desert and taking Neopia by storm, The Lost Desert's Battle Supply Shop has certainly been busy these past few weeks. It seems like there isn't a week that goes by without a handful of new releases from that nomadic Aisha.
This week was no exception, as a whole line of mighty sceptres hit the shelves. Our personal favourite is the ruby encrusted sceptre... how stylish!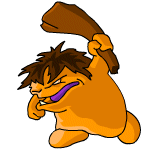 If you happen to have one of these sceptres, you might want to add it to your arsenal before squaring off against the mighty Cave Chia, who happens to be the latest "Defenders of Neopia" challenger. Lurking somewhere in Tyrannia, this primitive powerhouse has captured two innocent tourists. Can you rescue the tourists and bring that club-weilding cave dweller to justice?

Another big story has been the unveiling of new Petpet rare item code goodies. As of Wednesday, you can swing by the Grundo Warehouse to redeem your code, and receive such stellar items as Baabackpacks, Noil pajamas, or an Angelpuss pillow. Woohoo!

Speaking of rare, have you ever tried adopting a Draik? Unless you're in the right place at the right time, it can be really hard. Or what if you want a Draik, but already have four pets, and can't bear banishing one of your pets to the dreaded pound? Well, have we got news for you!

This past week saw the debut of Draik morphing potions... yippee! Now, should you find one of these potions on Kauvara's shelves, you'll be faced with a rather enviable dilemma: do you transform a pet and have a Draik of your own, or pocket a king's ransom by selling/trading the potion? Decisions, decisions...

Has your discriminating diner grown bored with swilling onion cola and munching on ghost marshmallows? Well, now's the time to head out and pick up one of four new gourmet foods! Delight in the subtle pleasure of snacking bread, or feast on the staggering taste of a hearty seafood pasta salad. Oh sure, such fine meals come at a cost, but only the best will do...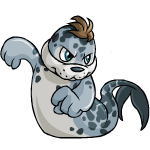 As Friday arrived, Neopians took some time to appreciate those adorable amphibians, the Tuskaninnys. Throughout Friday, a wide array of Tuskaninny weapons, Battledome moves, and baked goodies were released, along with two new paint brush styles (purple and spotted). What a great way to top off a busy week!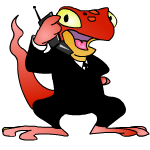 Now, let's take a look at today's headlines from the floor of the Neodaq exchange. The economy has certainly been on a roller coaster ride lately, as the index climbed 175 points two week ago, only to fall thirty-three points last week. The market roared back this week with another whopping gain, this time going up an amazing ninety five points. As the week draws to a close, the Neodaq stands at 1085, poised to leap right past the 1100 point barrier.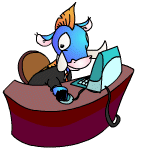 To the surprise of hardly anybody, BOOM! Boom Boxes led the way once again, rising an unbelievable forty-one points, entering Friday at 198 NPs per share. With BOOM! on the verge of breaking two-hundred points, previous predictions of how "everything that goes up, has to come down" now seem almost obsolete. At this point, many have begun to wonder if BOOM! has simply become TOO powerful. However, the emergence of Lupe Consolidated as the Neodaq's other 100+ point company has stemmed talk of BOOM!'s dominance. It seems as though the budding rivalry between BOOM! Boom Boxes and Lupe Consolidated could soon turn into a battle for supremacy of the Neopian economy.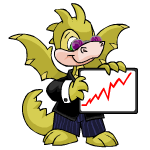 However, despite the Neodaq's latest rally, there were a number of companies who failed to cash in on the bull run. Among those hardest hit was Shop Wizard N-Commerce, which fell a stunning twelve points, all the way down to seven NPs a share. SWNC was just one of five companies who were unfortunate enough to fall below the dreaded 15 NP mark. This brings the total number of companies currently in limbo all the way up to twenty-seven.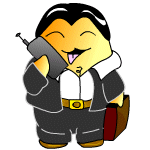 So then, as the week ends, the economy continues to become more and more polarised. On one hand, powerhouses like BOOM! and Lupe Consolidated are increasingly dominating the market; meanwhile, an alarmingly high number of companies remain under 15 NPs and unable to trade. Is this simply a case of the cream rising to the top, or could this lack of balance throughout the economy lead to later problems? Only time will tell....