Welcome to the latest edition of The Neopian News Brief, your weekly source for all the stories making news in Neopia. There's an awful lot cover today, so let's get right to it!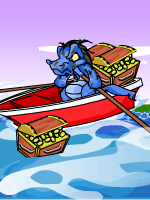 Our lead story this week is the arrival of Dubloon Disaster, an exciting new game that has all of Neopia in a frenzy! After a raid by the crew of the dreaded Black Pawkeet, Dorak the Krawk has bravely set out in his tiny row boat, hoping to collect the gold that the pirates have left in Krawk Harbour. As you can imagine, the pirates don't take too kindly to Dorak making off with all their treasure, so they've sent out a fleet of homing mines to discourage him from freebooting their gold. It's up to you to help Dorak avoid the mines and take home the treasure. Are you up to the task?

Amphibious Neopians are rejoicing throughout the land, as this week marks the celebration of not only Quiggle Day, but Nimmo Day as well! Along with the usual array of free training, books and Battledome weapons that normally accompany such festivities, these celebrations have also resulted in a few new things that are considerably less ordinary.

For example, Thursday saw the addition of three new Quiggle animations to the Fun Images section. Is your shop or pet's page looking a little dull and haggard? Then spruce it up with a cool Quiggle animation or two! As for Nimmo Day, a quick visit to the Toy Shop will reveal three new magical plushies, which allow for those who are "Nimmos at heart" to join in on the fun. Hurray!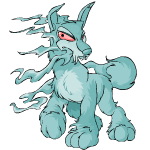 So you've given the Pant Devil a proper thrashing, and returned little Ginny's bike... are you ready to tackle your next challenge? For those who feel prepared to move on to their next quest, Judge Hog has sent out a call to bring the mighty Ghost Lupe to justice. It seems that this annoying apparition from the Gallery of Evil has been making a nuisance of himself. Will you be able to send away this stubborn spook, once and for all?
Tired of taking a beating in the Battledome? Well, maybe it's time to invest in some new weaponry. If that's the case, then you're in luck, because Fyora has added two new releases to her staggering selection of Hidden Tower items.

Be sure to sport a pair of gloves when handling a set of Earth Faerie leaves, because they're REALLY sharp. We all know that the Earth Faerie has a reputation for stinginess, but let me assure you... there's NOTHING cheap about her latest creation!

Warning: Bad puns ahead. Searching for a weapon with a little more bite? Wanna put your opponent down for the count? Look no further, the Faerie Queen has just released... Fake Count Von Roo Fangs!
Bleed your opponents white, then say "Fang you very much!" as you return to your cozy coffin in the darkest reaches of the netherworld. Okay, maybe not...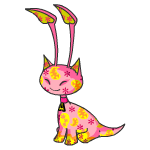 It's time for everyone to circle Saturday the 22nd on their calendars! On Friday, it was announced that Disco Aishas will be the next plushies to arrive in stores, appearing on Saturday, June the 22nd. Limited Too stores will receive around ten Disco Aishas each, so hurry up and get one, because they probably won't last long. Shops will also get twenty-five collector cards, each with rare item code, so be sure to ask for one when you stop by!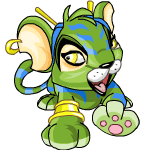 They don't call it Mystery Island for nothing; as if the island could possibly get any wierder, Tuesday marked the puzzling debut of the Mystery Island haiku generator. Always ready with a vexing verse of elliptical elegies, this confounding Kougra makes the Island Mystic look like a straight-talking font of common sense.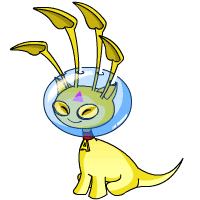 Round up your Nerkmids, it's time to visit the Alien Aisha vending machine! Those wacky aliens have whipped up another round of *ahem* innovative culinary concoctions. Some of their latest offerings include a zesty onion cola, the utilitarian goodness of nutritional blocks, and, of course, who could forget the hearty ambrosia that is swill pudding? Ah, all the flavour of dirty river water, in the convenience of tiny plastic cup! What will those kooky Aishas think of next?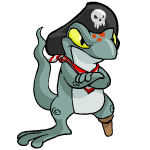 For the past few weeks, Neopia's shores have been flooded with boatloads of pirate newcomers. Well, this week was no different, as Tuesday saw the arrival of pirate Techos and Kois. With more swashbucklin' stripeys destined to reach shores in the weeks to come, my guess is that the demand for pirate paint brushes won't be falling off anytime soon.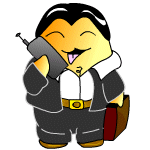 Now, it's time to take a closer look at this week's financial headlines. For the fourth straight week, the Neodaq managed to post a gain, climbing another twelve points. However, considering that the previous weeks' gains were of twenty-six, thirty-two and fifty-three points, some analysts are pointing to this week's relatively meager increase as a sign that the economy might be slowing down, and poised to crash.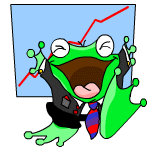 Probably the biggest story from the floor is the sudden collapse of BOOM! Boom Boxes, which finally succumbed to the odds and fell a staggering fifty-six points, closing out the week at just under a hundred. Another big loser this week was Balthazar's Faerie Bottling, who followed up last week's surprising twenty-nine point jump with a humbling twenty-point drop.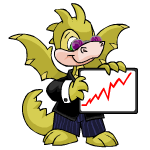 On the other hand, there have been a handful of companies who've continued rolling along, the most surprising being Skeith Bodyguards, who topped last week's stunning twenty-seven point rise with yet another unbelieveable twenty-seven point increase. Also showing a disturbing amount of vitality is the one and only Virtupets, whose shares went up a troubling fourteen points. Does this mean you-know-who could be up to something? Hmm...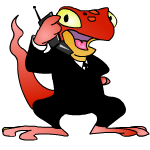 Last week, a few investors became reasonably concerned when the number of companies trading under 15 NPs hit an all-time high of thirty. However, with things picking up in the market overall, those same investors would be pleased to know that that number has dropped back down to twenty five, as companies like Chiatech Password Security and the National Neopian Bank were among those managing to pull themselves out of limbo by climbing over the dreaded 15 NP mark.
So then, with a number of companies resuming trade, will the Neopian economy continue growing with renewed vigour, or is the Neodaq's slowdown an indication of troubles that lie ahead? Only time will tell....