Hello and welcome to this week's edition of The Neopian News Brief, your one-stop guide to the latest happenings in our beloved Neopia.

This past Tuesday, Neopia celebrated Moehog Day. Moehogs and their fellow Neopians were treated to some fine new literary treasures, including Moehog News, Classic Moehog Tales, and for those with shorter attention spans, the Moehog Comic.

They also enjoyed three rather intimidating Battledome moves, including the hot Moehog Fire. Scary! Yummy Moehog desserts went on sale in the bakery. Finally, new Battledome items went on sale. That stylish and practical Moehog cape is a must have!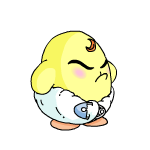 Paintbrush Mania! This week the power to bring a paintbrush into existence was put in the hands of Neopians themselves as they were given the chance to vote for not one, but two new paintbrushes. After the first vote, only one sound could be heard throughout Neopia. "Awwwww!" Yes, the baby paintbrush was the big winner in the first vote.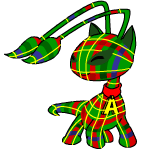 Over 60,000 people voted for the brush, which beat out the Tartan and Mystery Island paintbrushes by astounding numbers. As if some Neopets weren't cute enough to begin with! The paintbrush will transform your Pet into infants, with their adorably huge heads and eyes that just make you want go... awwwwww! The baby paintbrush was added to the Hidden Tower on Thursday at 300,000 NP. Don't you want your Chia to look like a wittle, itsy, bitsy egg? Look, it's angry. How cute!

Don't count the Tartan and Mystery Island paintbrushes out, however, they went up against the Pirate paintbrush for another vote on Thursday. Results of this vote have yet to be announced. How exciting!

Also on Thursday, delicious assorted crepes went on sale at the Tropical Food Shop. Oo la la. They are a bit costly, with the exception of the thornberry flavor, but doesn't your pet deserve a little indulging? Wouldn't your Buzz just love to sink his pincers into that tigersquash crepe?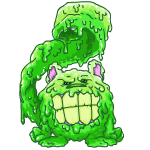 Meuka was big news again this week, having entered the Battledome as the most disgusting contender yet. Oh well, Chia Clown, you had your moment. Meuka will have all Neopets wondering, where is all that mucus coming from anyway? You don't want to know. Don't let the mucus distract you, though. Remember to keep your pets away from those sharp teeth.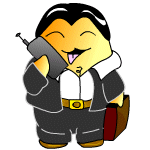 Now for a look at the economy this week. Another drastic drop in the market has analysts shaking their heads and some pulling out their hair. This week's ninety-point dive leaves the Neodaq at 741 points. Ouch. Among those who suffered the worst losses was Presidential Palace, which dropped twenty-six points to finish at fourteen. Despite the arrival of the NeoHome Gardens, Kacheek and Sons Landscaping saw a drop of twenty points, leaving the company right at fifteen points. Whew! That was close.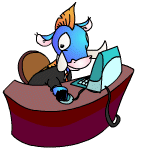 However, some still managed gains. Balthazar's Faerie Bottling gained ten points, as did Powlex. The good old Shop Wizard gained eight points this week. More companies showed losses than gains, and with less than half of existing companies under fifteen points, the Neodaq is reeking with the scent of desperation. Who will hang in there? Who will panic and sell before their company falls below fifteen? Will things turn around? It's all so confusing....