Hello and welcome to this week's edition of The Neopian News Brief, your one-stop source for all the latest headlines from the land of Neopia.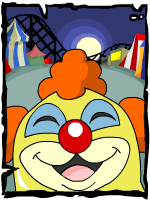 Roll up, roll up, the circus is coming to town! That's right, our lead story this week is the arrival of Dr. Sloth's Carnival of Terror. There was once a time when the carnival was beloved by all Neopians, who flocked from far and wide to rejoice in its colourful displays. However, Dr. Sloth has brought the show to a halt by deploying an evil fleet of mechanised Chia Clowns. Now, with the carnival's future in dire peril, you are Neopia's only hope. It's up to you to destroy the Chia Clowns, before they fulfill Sloth's plans for global domination!

On a much lighter note, everybody's looking forward to Saturday's debut of all the new Purple Chia items. Thursday brought a sneak preview of what's in store, as an announcement in New Features was accompanied by a peek at three of the items.

For those who missed it, the three new items shown were the Purple Chia sword, amulet, and mirror. So now, exclusive to the Neopian News Brief, is an exclusive first look at... *drumroll* Purple Chia slippers! Sweet!!!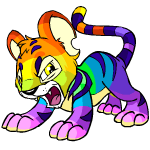 Also making news this week was the arrival of Kougra Day. On Monday, those fiesty felines from Mystery Island were blessed with a whole new slew of treats. Along with the usual array of books and baked goods, Kougras also received four new ultra-cool Battledome weapons. Now, your pet can proudly step into the Battledome sporting a metallic shield, guilded mask, wing collar, or power shield. The shiny dark blue surface of these items is sure to make your Kougra look sleek and intimidating...

Choosy chuffers also have reason to dance in the streets, for this past week saw the release of two more sets of gourmet food. Friday marked the arrival of bangers and mash, frozen prawn delight, and the super-tasty strawberry shimmer cake. Nothing will please your pet like a nice Sunday meal of bangers and mash, grog light, and a tasty scotch egg... mmm, delicious!


Tuesday saw the debut of four more scrumptious delights, which are sure to have your pet's tastebuds in a frenzy. In addition to Stuffed Penupe, Le Sausage, and Chocolate Cherry Cheesecake, your finicky gourmet can also tuck into a heaping serving of Island Meatloaf, which strangely enough, is a 100% vegetarian dish. Dig in!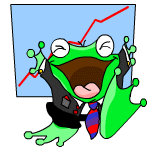 And now, it's time to take a quick look at today's financial headlines. After collapsing nearly two weeks ago, the Neodaq continued to rally back, tacking an eighty-three point boost onto last week's fifty-three point climb. Among those leading the way was Kacheek Telecomm, which rose an impressive sixteen points this week, going all the way to 23 NPs a share. KATE was just one of nine companies that climbed back over the 15 NP mark this week, lowering the total number of companies under 15 NP to nineteen.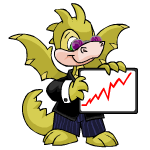 On the other hand, there were a handful of companies that continued to have problems. One such struggler was the Neopian Auction House, which fell a whopping ten points a share, all the way down to 8 NPs. TNAH was joined by Cybun Electromatics as the only companies that fell below the 15 NP mark for the week.
So then, will the Neodaq continue its resurgence, making it three weeks in a row of economic expansion? Or has this recent surge only been a momentary relief from a much larger downturn? We shall have to wait and see....