The Neopian News Brief
Hello and thanks for joining us as we present this latest edition of The Neopian News Brief, your weekly summary of everything that's going on in the world of Neopia.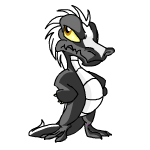 Krawk this, Krawk that! Krawks got the special treatment this week, especially with the three new colours your little reptile can don--skunk, striped, and mutant. A small group of high society Krawks, known as KRY (Krawk Relief and You), were terribly upset about the new skunk paint brush, so they made T-shirts that read: "This Really Stinks!". So to make these pets happy, Krawk day became a two day affair.

On Wednesday, four new Krawk Battledome items (magic and defence) were released, which made many Krawk owners jump for joy right into the shops and straight to the 'dome.

The Neopian Times proudly reports that this week alone, 8 out of 10 Krawks didn't get hurt too badly in the Battledome... all thanks to the Krawk battle shield, terror mask, tail armour, battle claw and jagged blade.
For those that kicked butt in the Battledome this week, here's a tall glass of Krawkade in your honour. Yes, new in the Smoothie Shop this week, Krawkade was busy quenching many a Neopets' thirst, and making a few lucky shopkeepers very wealthy (the SWA for limeberry was around 61,000 NP).
If you're not tired of all this Krawk talk yet, then you'll be glad to know that four new Krawk related books were released with the brainier pet in mind. For Krawks, or any other species, that don't like battling but like to read about such things, the Times highly recommends Krawk Fighting Techniques.




In other news, it looks like Kauvara has been extremely busy. On Thursday, she announced that she cooked a whole batch of Buzz and Krawk morphing potions. Sources close to Kauvara say she didn't want anyone to be left out of Krawk Day... and for those that could have cared less, well, the Times would like to quote the Kau: "The rest of you guys can just Buzz off!". Enough said.
| | |
| --- | --- |
| Hello, is Nigel in? | Now that we have that all squared away, let's check out today's financial headlines. Well, thankfully, the market has crawled back up to a respectful level, but from here no one knows where it's going to go. Some speculate another major drop, while those still holding onto their chips predict a huge rise in prices. It's anyone's game here, so pick a team. Big winners this week were BOOM! Boom Boxes and Lupe Consolidated, both steadily rising week. |
Though there wasn't much change in prices this week, a few companies weren't so lucky. The hardest hit was Alien Aisha Vending Ltd., which dropped over twenty points to an okay 35 NP. Other companies holding tight for the week were Chiatech Password Security, Neopian Auction House and Hubert's Hot Dogs. If you're a conservative player, then you should be happy with your investment--you still have what you put in.
| | |
| --- | --- |
| With the exception of a few companies, this week marked one of the first times the market didn't change much. Could this be the start of a long period of stability? Will stability make for a prosperous return on your initial investment? Will you add to your initial investment? Will you become prosperous in the NP department? Fortunately, the future holds these answers... and that's tomorrow. | It's at 8 NP? SELL!!! |