Hello and welcome to our first edition of The Neopian News Brief, your weekly summary of all the latest happenings in Neopia.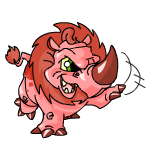 Our first item this week is the arrival of Neopia's newest species, the Tonu. These furry Tyrannians have made quite a splash, as millions of Neopians have spent the past few days scrambling to get their hands on one of these loveable latecomers. But, before rushing to pick one up, you should know that Tonu have a reputation for being rather rambunctious. Not that it's going to keep you from getting one… we just thought you should know.
Another major story this week has been the arrival of Krawps, a fantastic new dice game from Krawk Island.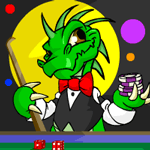 While there are those who maintain that, at first, the game can be rather confusing (let's face it, Krawps makes Go! Go! Go! look like Kiko Match), those who have put forth the effort to learn the game have had nothing but glowing praise. "Arr! It's a gleemin' good time," said one devoted Krawps player. "I put 50 NP on the Hi Lo, and hit it by rollin' a twelve! At thirty to one odds, let me tell ye… the grog were flowin' like a river at the Golden Dubloon that night!"
One of the most highly anticipated events of Year 4 has to be the impending arrival of NeoHome Gardens.

An indication of the interest surrounding NeoHome Gardens has been the success of Garden Gnomes, which took Neopia by storm when they arrived earlier this month. After the popularity that the first set of gnomes enjoyed, it was no surprise when last week's release of six more gnomes was greeted with unbridled enthusiasm.

This week also saw the debut of five stylish garden statues, creating quite a clamour among Neopia's future gardeners. However, right now the demand for garden statues is unbelievably high, and so is the cost; it might be wise to wait a few weeks before picking one up. That way, you'll still have enough NP left to actually buy flowers.
Lately, there's been a great deal of speculation surrounding a project known as TLW, or Tyrannian Land War. Although a recent Editorial confirmed that TLW would allow Neopians to "aggressively compete against one another," at this point not much more has been disclosed. Since we just love to gossip (hehe), we thought we'd share some of our favourite TLW rumours:
1. TLW is an upcoming plot, in which Dr. Sloth and the Virtupets invade Tyrannia (like the Lost Desert). Will the Tyrannian war machine, led by Grand Elder Kyruggi, be able to fend off Sloth and his evil minions? Dum, dum… DUM!!!
2. TLW is a contentious border dispute between the inhabitants of the Tyrannian Jungle and the Tyrannian Plateau. Apparently, Sabre X caught one of the villagers from Tyrammet going back for a little extra omelette, and the next thing you know… IT'S WAR! Who will prevail in this match between the guerilla tactics of Kyruggi's jungle troops and Sabre X's well-trained ground forces?
3. TLW will be the site of a new Tyrannian marketplace, where shopkeepers can battle it out for the right to each other's shops. Feeling a little cramped by that neighbour of yours who's been stealing all your customers? Put your shop on the line in a high-stakes Battledome match where winner takes all…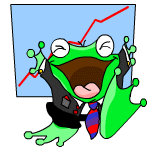 Now, it's time to take a look at the day's financial headlines. Today's big story has been the continued resurgence of the Neopian economy. After collapsing more than two weeks ago, the Neodaq index has climbed yet again, adding a fifty-nine-point gain to last week's ninety-four-point surge. Among those leading the way is manufacturing giant Powlex, whose shares rose an impressive twenty-one points, and the mysterious Shoyrux Enterprises, who claim that their profits are up nearly 8% this quarter. I guess we'll just have to take their word for it…
On the other hand, there are a handful of companies who have yet to take advantage of this latest Bull Market. One such company is Virtupets, whose shares fell a disturbing seven points this week. Apparently, many investors have been scared off by allegations that the company is nothing but a front for the sinister activities of Dr. Sloth. However, in all fairness to Virtupets, it must be pointed out that, to this date, such accusations have yet to be validated by any evidence.