Hello and thank you for joining us as we present this week's installment of The Neopian News Brief, your all-in-one guide to the latest headlines from the world of Neopia, from the tourist traps of Kiko Lake to the rustic rolling hills of Meridell. We've got plenty of exciting stories to cover, so let's get right to it...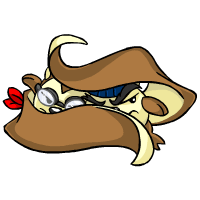 Our lead story today is Thursday's arrival of the latest Defenders of Neopia challenge. It sure was hot the other day, so rather than sitting around in the sweltering sun, a young green Acara and her Zafara friend decided to spend the afternoon at the beach. However, as soon as they'd hopped into the water, their belongings were seized upon by two of Neopia's most notorious thieves, Heermeedjet and Meerouladen (aka The Meerca Brothers). It's bad enough that these two go around carrying out the evil deeds of Malkus Vile, but now it seems that they've begun resorting to petty theft, as well. Along with snatching up the Zafara's backpack, it appears that the Meerca Brothers also managed to take the poor kid's homework as well... doh! It's up to you now to bring those pesky Meercas to justice and return the Zafara's homework... are you equal to the task?

For those of you who read the News Brief every week (bless your little hearts!), you'll recall that our lead story last week was the recent unveiling of the Kiko Lake mini-world. Well, just as predicted by moi, some exciting new developments relating to Kiko Lake turned up this past week. This Thursday, a pair of great new shops opened up on Neopia's newest tropical hideaway.

First up is the Kiko Lake Carpentry Shop, which is the place to go if you wanna score some übertrendy coral furniture, along with such essential NeoHome accessories as pink coral coat racks and kelp window blinds. While visiting Kiko Lake, you're certain to build up an appetite while trying to corner the market on magenta coral lamps.

Have no fear, though... there are plenty of tasty confections awaiting you and your taste buds at Kiko Lake Treats. Located just on the other side of the pier, this shop offers an ever-growing assortment of cookies, fudge and rock candy delights. Mmm... Kikolicious!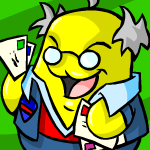 For quite some time, stamps were all the rage in Neopia. Prices were through the roof, and it seemed like every News Brief contained a story about some hot new stamp set that was setting the collecting world ablaze. But then, after awhile, things kind of cooled off over at the Post Office Kiosk. New trends came along, prices started to drop, and interest in stamps began to wane... well, that could all be changing now, as a trio of stamp releases might be the spark that the hobby's been looking for.

It all began on Monday, with the arrival of three outstanding Lost Desert stamps that depicted a scarab (printed on delicate, hand-made paper), Brucey B's Lucky Coin, and a holographic image of King Coltzan. With all three stamps sporting rarities in the 90's (and the Coltzan stamp having a rarity of 99), this release certainly got the attention of collectors.

That was followed by another stellar release on Tuesday, as the final three NeoQuest stamps were unveiled. Featuring images of Tylix, Eleus and Gors the Mighty, these stamps also carried staggering rarities between eighty-nine and ninety-seven. If those two releases hadn't done enough damage to their budgets, stamp collectors also had to contend with a quintet of stamps from the popular "Meridell vs. Darigan" series that turned up on Thursday.

Although two of the stamps have rarities in the eighties (still a rather princely sum), the other three possess rarities between ninety-five and ninety-nine... and are sure to be downright pricey for even the most well-heeled collectors. Oh well... good luck stamp enthusiasts, and best wishes on tracking those new stamps!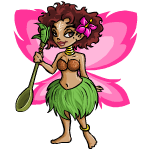 As the second week of bizarre occurrances rolled into effect on Mystery Island, it seems that the natives still haven't gotten the hint. This past Monday, to the shock and amazement of just about nobody, Jhuidah the Island Faerie went missing. In fact, the biggest surprise turned out to be that, the very next day, she was actually returned! Granted, her head was jammed in a fishbowl (bet you didn't see THAT coming... ). Anyhow, according to Jhuidah, she was working on a root that possesses magical shrinking properties when some bizarre little shaman abducted her. Then, when she woke up, she found herself doing a pretty good Alien Aisha imitation. Interesting...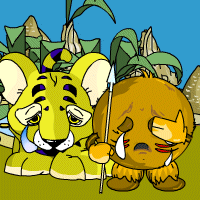 According to the Island Faerie, this odd little guy is the one responsible for the recent spate of kidnappings. Apparently, a long time ago, Jhuidah and the other four abductees were entrusted with protecting the island from some horrible, horrible force of evil that had been trapped in the volcano ever since. Now, unless the other four guardians of the island are returned to safety, then the wrath of this mysterious volcano villain will be unleashed, and the island will face great peril. According to New Features, the second installment of the plot (which would presumably entail finding the other four), will begin sometime within the next few days. Oh goody, we can't wait!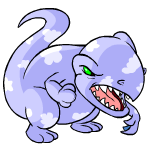 With the past week rounding to a close, the time came for Neopians take note and appreciate those gumptious, gluttonous Grarrls. Although the festivities were originally scheduled for Saturday, we decided to go ahead and jumpstart the proceedings on Friday. As a result, along with with the usual entitlement of books, belly-busting treats and Battledome accessories that come on a pet's special day, Grarrls also received two days of free training from Cap'n Threelegs, instead of one.

Other accoutrements that arrived in time for the celebrations included a matching blog and avatar set, a pair of new paint brush styles (split and cloud), along with featured appearances in the latest installments of the Caption and Poetry Contests, as well as the Pet Spotlight and Art Gallery. Yay!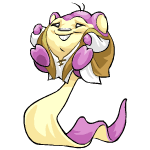 It's now time to take a closer look at this week's top stories from the world of finance. Offering an amendment for the time-worn adage that "What goes up must come down," the Neodaq has certainly gone up lately, barreling right past 1400 and setting its sights squarely upon the 1500 point mark, yet it appears to have no intentions of coming down. Among the leaders, yet again, was Meri Acre Sausages, which retained the top spot on the Big Board by soaring another forty-three points, to close out the week at a whopping 310 NPs a share.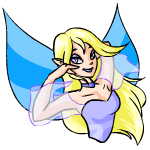 However, the biggest shocker of the week was the unbelievable vault by Faerie Clothing Ltd. Just a week ago, FAER's shares were languishing around the twenty NP mark, then all of a sudden... POW!!! By the time the frenzy was over, Faerie Clothing had closed at just under two hundred NPs a share--incredible! Thanks to their stratospheric leap, the company now stands in the #2 position on the Big Board... talk about "rags to riches"!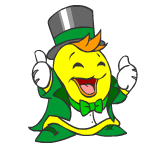 Coming in at Number Three, after a relatively uneventful week, was Fish Pops!, who tacked on another fourteen points, to close at 115. Rounding out the top five were Jacko and Sons, along with Chiatech Security, who finished at sixty-eight and forty-five NPs, respectively. So then, with the unbelievable rise of Faerie Clothing Ltd., can they really be expected to challenge Meri Acres Sausages for next week's lead? Or, will all the air be inevitably let out of their balloon? We'll just have to wait and see....