Hello and welcome to this week's edition of The Neopian News Brief, your all-in-one summary of the latest headlines from the land of Neopia, from the puffy panoramas of Faerieland to the tangled thickets of the Tyrannian Jungle. These past few days have been quite busy, so there should be plenty to discuss... let's go ahead and get started!

After last week's mention of the new NeoBoard system, our lead story today is the arrival of a whole new array of avatars. However, unlike the avatars that were mentioned last week (which are available to all users when they set up their Chat Preferences), getting one of the new avatars requires a little something extra.

In most cases, acquiring the right to select one of the new avatars seems to require either a.) finding that avatar's hidden location, or b.) performing some specific feat that unlocks it. On Monday, a Dr. Sloth avatar came out, which you can only access through a Random Event.

Wednesday brought the arrival of a Babaa avatar (I wonder where that one might be), while Thursday introduced two more: an avatar of Neopia's favourite fugitive mastermind, Number Six, and a Faerie Queen avatar that becomes available to those who buy something from the Hidden Tower.

A quick tip: since the Faerie paint brush is the lowest priced item in the Tower, I'd look for their price in the auctions and trades to start dropping, since folks will probably buy them to get the avatar, then dump the brush to get their NP back.

Friday brought a trio of avatars; one, depicting the Wheel of Excitement, is for the next time you visit the wheel. The other two, representing Illusen and Jhudora, are for those who've proven themselves as being exceptionally good at fulfilling their quests.

With all the excitement that's been generated by those trying to track down the avatars, I'm sure we can expect many more of them in the weeks to come.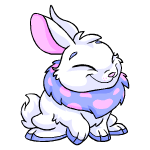 This past Monday, a new way of logging on to the site was introduced, which has received the overwhelming approval of most Neopians. Now, when you go to log in, one of your pets will come up after you've typed in your username. After you have verified that the pet shown is, indeed, one of your Neopets, then you are able to type in your password and securely enter the site. Hopefully, as a result of this new procedure for logging in, all those lousy fake login pages that the scammers have come up with will now be rendered obsolete. Hurray!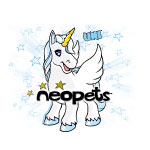 On the merchandising front, white Uni plushies became available at Limited Too this past Saturday. They're sure to sell quickly (after all, Unis are the sixth most popular pet), so be sure to snatch yours up if you get the chance. Also going on sale, at the 99Dogs store, are white Uni shirts, which will only be available for a very limited time (as you all probably know by now, most Special Edition shirts are only around for two to three weeks each), so if you want one, you'd better act quickly!

Okay, so it probably went something like this: a few of us were sitting around, having a bit of lunch. That's when the topic came up... what are we going to do for Wednesday? The usual suggestions made their way around the table: Slorg Day, Tiki Day, Purple Day, Dung Day... okay, maybe not Dung Day (one can always dream, though... right?).

Eventually, it was decreed that Wednesday would be *drumroll* Babaa Day! Kicking things off (of course), was the announcement that Faerie Babaas were this week's Petpet Protection League winners. That was followed by a set of Babaa furniture, Babaa-themed books, Babaa Back to School items, a quintet of Babaa NeoGreetings... even a Babaa rollover for the Neopets logo on our home page.

Babaas were also featured in Wednesday's Petpet and Gallery Spotlights, and received two new paint brush styles (pink and brown) and a Shop Blog of their own. Wow, pretty impressive!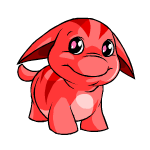 There was quite a bit of exciting activity over at the Rainbow Pool this week, as a number of pets received new looks. The biggest news, however, was the announcement of two new species makeovers. As we speak, Lennies and Poogles have begun to make the transition to their latest incarnations. Additionally, however, we had some stunning new brush releases, beginning with island Chombies and Faerie Shoyrus on Monday.

That was followed by pirate Peophins on Thursday and pirate Shoyrus on Friday (Ahoy! What's with this sudden pirate popularity lately?). Also joining in were a quartet of glowing Petpet PB styles. As of Thursday, your Moltenore, Stego, Rock, or Kadoatie could be the recipient of a glowing new look.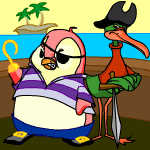 It's now time to take a closer look at today's financial headlines. Last week, we mentioned observing many analysts beginning to speculate that, based upon the diminishing returns of recent weeks, the end was probably nearing for the recent economic rush that we've experienced. However, rather than taking a turn for the worse, it appears that the economy remains poised at its pinnacle, tacking on another nine points to round out the week at 1033. However, with the top two companies on the board, Fish Pops! and Meri Acre Sausages posting respective losses of twenty-one and thirteen points, it was time for some fresh blood to step forward.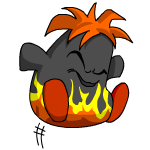 Seizing upon their opportunity to take the lead, The Smuggler's Cove busted out with a massive twenty-eight point gain, finishing off this week's trading at sixty-nine NPs a share, making them the third most valuable company on the board. Also among the leaders was Chiatech Password Security, who were able to tack on a fifteen point gain and end the week at #4, tied with Shoyrux (who picked up ten points of their own) to close at fifty-seven NPs a share. After that it's a long way down, though, as Powlex, whose addition of eight points brought them to forty-seven, were the only other company above 35 NPs a share.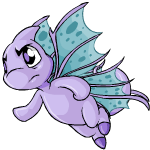 So then, with the economy teetering on the edge of what might be a long, slow decline, many are asking if the time has come for a changing of the guard. If that's the case, can companies like The Smuggler's Cove, Chiatech Password Security, Shoyrux, and Powlex be seen as credible contenders to lead the way during this next economic stage, or will they wilt and make way for someone else? Only time will tell....