Editorial
Can the Rainbow Fountain turn my pet Maraquan or a retired color? - Metiis
Yes, it can :)
I read a somewhere you said cars don't exist in Neopia and Neopets don't drive but in the haunted woods in the haunted house, that choose your own adventure game, there is a car, and a Neopet is driving it. Also in a game I played once I remember there was also a car, um... so I'm confused now. Can you make me not confused anymore?
Ok, cars don't exist in Neopia. Nor do laptops, computers or anything super high-tech (except in the Space Station). Some of our games are just jokes (such as the stock market) and have little parody images like Nigel in his car. These games are seperate from the fantasy world that is Neopia, they are just on the site for fun. (By the way the Quiggle in a car for the Mcdonald's drive through is just a sponsor thing. The drive thru will not ever be featured in cartoons, computer games, books, etc. because it doesn't really exist in Neopia)
Hey! Neopets told us the Rainbow Fountain would never come back, why the change of heart?
I guess we are just nice people underneath it all...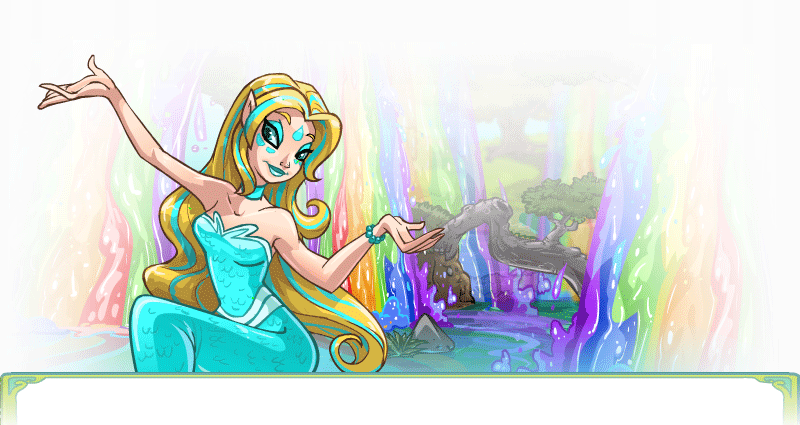 Hey, I was going to enter the Caption Contest (I think it was number 295) but I didnít know what that creepy little yellow thing was called, so I couldnít type it. So, what is that creepy little yellow thing? - Qatzar
Its a prize you can get from the Haunted Scratchcards game but its HIDEOUS and will be magically transformed into something less ugly very soon.
Lately I've been on Neopets a lot. The other day, I had no programs open except Microsoft Word and Neopets. Then as I clicked "Explore" on the sidebar, an ad popped up. Then today, as I clicked for Tombola, a weight-loss program ad popped up. No other windows could have caused these ads except Neopets. Since Microsoft Word doesnt create ads, it MUST be Neopets then, right? So, have you added ads to Neopets? -acebogirlie
No, we have no adverts on Neopets. Both Adam and I feel very strongly against pop-ups. It may be worth you downloading a program called Adaware from http://www.lavasoft.de. Its free and will scan your computer for any nasty ad popping things that may be installed on it. You can then go through and decide whether you want to remove anything it finds. I use it all the time and its amazing what junk can get automatically installed on your computer without you knowing it.
I have had a question nagging at the back of my head for a while. Why in Whack-a-Staff Member do you get more points for hitting girls? - O_rpg_fan_o
Hmm... good question. I think it must be because it was written by a guy!
Can your petpet be painted twice or more or only once? - Rosebaby1011
You can paint your petpet as many times as you like as long as you have the correct paint brushes.




Hi, I was wondering, how do you know if your petpet has fleas? (ya know- Vernax and Mootix)
They start scratching a lot and moan about being bitten all the time.
Whenever I'm just randomly looking for toys in the Shop Wizard, sometimes it searches for a Lord Darigan Toy. However, nobody ever has one. Is it some unreleased item that no one has yet?
Correct, we haven't released it yet but here is a sneak preview.

Do you win multiple trophies for continued stories?
***Update***
Now you get a trophy for each week your story is published, not just one for the whole series.
Will you be adding more to Maraqua soon? - _Cowovermoon_
Yes, but that's all I'm saying!
How do you enter a petpet for the petpet protection league competition? There isn't an email-link anywhere on the PPL page! - Tintaglia_82
If one of your pets has a petpet they are automatically entered. You don't need to do anything.
Is a Walking Carpet a petpet, or just furniture? - bonisabelle
Its a rather cute Spooky Petpet that you can buy in the Haunted Woods.

Rawwwroooorrrrghhhh!
Where did the "neo" in "Neopets" come from?
My rather scatty brain, same as the pet in Neopets :) It just sounded like a good name at the time and well, stuck.
If you buy a stone paintbrush and paint your pet, will it become island?
No, the stone paint brush doesn't do anything to your pet. Its just a little piece of Neopian history.
If Grundo language is backwards language, then is the name Grundo actually Odnurg backwards?
Grundos don't talk backwards, that was just some awful idea that was on the old, old, old Grundo webpage. It has now been removed, much to the relief of Grundos all over Neopia :)
Why did y'all bring back the Rainbow Fountain?! People like me paid MILLIONS on their pets and now other people can get it for free!
Ahh do not be so hasty... it is not the old easy Rainbow Fountain. If you want to be able to paint your pet a cool colour you have to WORK for it :)
How do you get to Roo Island? - Missusbball123
There will be a link on the explore map shortly, for now try here - http://www.neopets.com/worlds/
---
Need more help?
If you have a question that you think should be answered here, e-mail it to editor@neopets.com. The most common/bizarre questions will appear here next week.