Editorial
Who came up with the month names, like the month of hunting? - Kmd12345 ?
That would be Adam.
Where is the Swashbuckling Academy?
It is on Krawk Island, in the lower middle part of the map.

Why dont the advertised games have hi-score tables? - Silent_rapto34
Our sponsored games are only on the site for a short period of time and they are constantly changing around. The only games with high score tables are official Neopets games.
Where can Onas be bought and why aren't they in the petpet puddle?
Onas are a wintery petpet, so they are sold in the Wintery Petpet Shop in Snowy Valley. They are not available in any colours apart from blue at the moment so they will not appear on the Petpet Puddle pages.

Why can't people talk about religions? Can you (possibly) make a place where we can talk about our religions (like Christianity)?
Quite frankly religion is not what Neopets is about, if you want to go and chat about religions there are hundreds of chat sites around where you can happily debate with other people. Neopets is just NOT the place for this.
When are the Neoschools going to be coming out?
*pokes Adam* Very soon!
Could you make some more mutant pets they're my favourite:)
Hehe, ok ok we haven't added any mutants for a while, I will see what we can do.
I was wondering, since neopets get make-overs, will petpets have make-overs too? - Coolpup352
Some of them will yes. In fact, the Isnawee is due to have a new look later this week.
I was wondering if you would ever consider adding a pause button to any of the Neopets games. I know that once I get started with a game of Meerca Chase or Korbats Lab, something always seems to come up where I need to step away for a second. - VenusSelene
Sadly this is not something we would ever do. You may not abuse it, but other people would and it would make the games ridiculously easy and no longer fun to play.
Why does Adam get SEVEN pets? That's too much for people that really want more than four pets. Can we please have up to seven pets too? - Aisha_lover9090
Adam got so sick of people whining about why he had five pets he adopted another two ;P (and no you can't)







Why did you raise the price of most of the Battledome items? I used to stock up at Battle Magic but now that all the prices have raised, no one buys anything there because they are too expensive..so there is no room for anything to stock. Is there any way you could lower the prices back down?
We didn't raise the prices, they go up and down based on what people are selling them for in their own shops. This is the same as all the other item prices. I will make the more expensive items rarer so they do not fill up the shop anymore.
I want a Candychan sooo badly, can you make a plushie one?
Heh, sure. I am sure a lot of people would love to add it to their collection.
Since my favorite pet is a Meerca, is there a Meerca Transmogrification Potion? If not, are you planning to make one? - Imsosad211
Trasmogrification potions only exist for pets that can be turned into mutants. There is no mutant Meerca, so there is no Meerca Transmogrification Potion. We may do a mutant Meerca in the future although there are no plans to make one right now.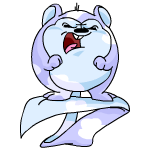 I noticed that the blue Kougra on the t-shirts that are going on sale at 99Dogs.com is different then the Kougra on Neopets itself. Does this mean that the Kougra will soon get a makeover like the Uni did?
That is just a slightly stylised version of the Kougra, it is still pretty much the same as the one on the site. We may update the Kougra eventually but it is not going to happen for a very long time.
I looked at my pet and it said speed:breakneck, is that fast or slow?
That is SUPER fast.
On Draik Day, (yes, I know it's far away) are you going to let more Draiks be adopted like you did on Cybunny Day? Pleeeeeaaaaase? - Rockinroxychick
Hehe, since you asked so nicely, sure :)
The Emerald Krawk Sword isn't released yet. When will these be released? - Raiden638218384
It was released on Krawk day, its just very, very rare.
Will Spardels ever be available in any other colours? Cos they are just so cute, I think they deserve another colour or two! - __Crazymoo__
You seriously like Spardels? They are a bit scary looking but I guess we might be able to throw a few new colours their way very soon...



Will you guys ever move the Hidden tower to a different location you know so its not so easy?
Ohh... but that would be sooooo mean!
In last weeks editorial somebody asked about the grey faerie...and you responded by saying....faeries....as in plural....so does that mean that there will be many grey faeries....or was that a mistake? - Mandythe1pickle
Err... I have said to much already... la.. la.. la... I don't know what you are talking about...
I noticed that this week's Lenny Conundrum is blank. Is it a mistake with my computer or what? - Erinneonx
No, its on purpose.
---
Need more help?
If you have a question that you think should be answered here, e-mail it to editor@neopets.com. The most common/bizarre questions will appear here next week.