Editorial
In the battledome, how much times can you withdraw from a fight with a friend until your put onto the blacklist?
There is no black list, so as many times as you like.
Will the Halloween pet pets which were retired AGAIN be retired for good this time?
Yup, we only brought them out of retirement to give everyone a chance to get hold of them as they were new petpets that just replaced old retired ones.
Hey, I was just wondering, what is that "Thing" that is on the link to go to the Ice Caves?
Good question, don't worry it will be wiped off the face of Neopia when we next work on the Terror Mountain maps.
In Meristones, the rules state that stones can only be stolen if they number three or fewer. The Draik can steal an unlimited number of stones. Is this a bug or just something that we'll have to deal with?
Unfortunately the Draik who runs Meristones is not as honest as some people, so he does cheat from time to time.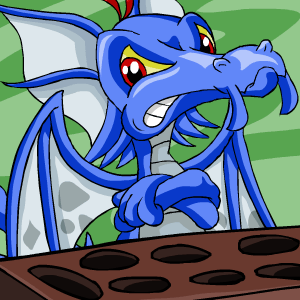 What me cheat??? Never!
How come I never get picked for the caption contest? I try over and over and over again but I NEVER EVER get picked
We get well over 20,000 entries for each competition so there will be a lot of people whose entries do not go up. We cannot put every caption up as there will just be too many pages. All I can suggest is keep trying.
We are changing the way we run the Caption Contest from next week, which should help make the contest fairer. Instead of releasing a few good captions a day, we will put the 20-25 best captions up the day after the contest is launched and then everyone will have the next day or so to vote on them.
What was that terror at 3,000 feet thing you guys were planning? Why did you take it off the terror mountain map? Are you ever going to bring it back?
In all honesty probably not, we were a little adventurous when we designed it and it turned out to be a MUCH bigger project than we anticipated.
Why did you say the Drackonack was cute? It looks like one of the bad Skeiths from Invasion Of Meridell. Has he got something to do with the plot?
Some people think the Draconack is cute! As for the plot, you will have to wait and see...

When voting for the " Whack-A-Staff-Member" game, I noticed someone nicknamed "Animator Zim". Was he named after Nickelodeon's show "Invader Zim"? If so, that is the coolest show ever. I was just curious.
He he... no Zim is his real name and he is an animator.
Do the winners for Lenny Conundrum get chosen when the next conundrum is posted, rather than immediately like with Better Than You?
I am afraid it is totally random. It depends when the great god Adam gives out the prizes.
I sure am glad El Pickulsaur was chosen for the Whack a Staff Member game. He bears a striking resemblance to Jay Leno. Does he look like Jay Leno in real life?
Ha ha! No he doesn't really. El Picklesaur is actually Mr Pickles, he just wanted a change of outfit.


Donna, have you ever had the urge to just smack Adam?
Every day!
If we mail our entries to you, can we put all of the pictures in one envelope all together? Like, the beauty contest entry, and the regular drawing entry together?
I am afraid we do not accept entries for the Beauty Contest in the mail, only Art Gallery entries.
Once I found this alien aisha thing where you press buttons and if you press them all, you win a prize. What happened to that?
That was the Alien Aisha Vending Machine. You can still get to it from the Games room, either click on 'Luck and Chance' or search for 'Vending'.

You never said you came out with Neopets picture frames! I love them! There we only 2 left at my store! I also like the keychains. I bought a key chain and a picture frame. :)
Oops, well everybody we have some cool picture frames on sale in Limited Too. Grab them while stocks last!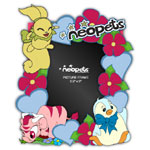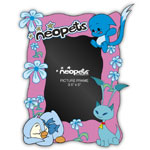 Do you think you will ever come to England?
Adam and I will be back in the UK sometime around Christmas, although we have no big event in the UK planned this year.
When December rolls around, will you have brand new animations for the advent calendar or will you stay with the same boring old "NON-WOCKY & NON-ZAFARA" animations you did last year?
Flaming cheek, boring animations indeed! Every year we do a whole new batch of advent calendar animations, we do try to include as many Neopets as possible, but with 46 species and only 31 days in December we can't always include them all.
---
Need more help?
If you have a question that you think should be answered here, e-mail it to editor@neopets.com. The most common/bizarre questions will appear here next week.