Editorial
What is the rarest berry from Merri Acres?
I think the rarest berry is the elusive Mortog berry.

Are you allowed to steal an item from a 1-player battledome challenger?
You can't actually take an item permanently, but things like sticky hands do work against one player challengers. This means for the duration of the battle, yes you can.
Are you guys ever going to continue with the Meridell plot?
Yeah, yeah... we are I promise :)
When someone sends a pet to the pound, does it keep its abilities that it get from faeries?
Yes, if you disown a Neopet it will retain all abilities, levels, equipped items and petpets that belong to it.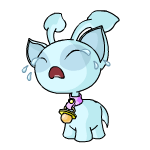 Wahhh! Don't leave me!
I was wondering where the game "Pick your own" went? I was able to play twice then all of a sudden it disappeared. Did the people in Meridell eat all the berries?
Nope, sorry we have added a link to it from the Meri Acres farm and it should be in the games room also.
I bought a Babaa Neopad at Claire's (which I adore!), and I just noticed something interesting...the phrase 'Asparagus is the food of the gods' is written on the cover. Why? And is it on all the notepads?
That is just a random message that is printed on a few of the notebooks. There are several silly fun quotes that are randomly included in some of the petpet notebooks, but they are not in all of them.
Why does the neopets team make all the new pets and petpets have more colours than some of the other older pet and petpets?
Normally because new pets and petpets have only a few colours (just the basic 4 to start with for any new Neopet). We like all pets and petpets to at least have some variety and will be adding lots more colour combinations to many different pets and petpets shortly.
Can people in over 21 guilds swear on Neopets?
No, profanity and abusive language is not allowed anywhere on Neopets.
If you decide not to do a Faerie Quest nothing bad happen, like your pet gets hurt, right?
That's right, nothing bad will happen to you or your Neopet. You just won't get the chance to earn the faerie's favour or earn any of the rewards from completing a quest.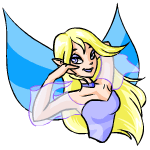 I suppose im not allowed to send in a story that doesn't relate to neopets? It's pretty good. But has nothing to do with neopets.
No. All stories, articles, comics, poems etc HAVE to be Neopet related in some way.
I was just wondering... what's the difference between a Hornsby and an Isnewee?
*cough* yeah erm... lets just say one of those will be changing pretty soon as they are the same petpet.
What is the difference between the Starry Paint Brush and the Paint Brush of the Stars?
There is none. Originally the Starry Paint Brush was called the Paint Brush of the Stars although we changed the name as it didn't really make sense. If people put the brush into their shop, trade, auction or safety deposit box when it was still called the Paint Brush of the Stars it will still be called that until they move the item to another place. Then the name will be updated to the new version.



Are you ever going to make it where we can put furniture on the mats or rugs? Right now if you try to put furniture on them it goes under the mat or rug.
You can change what furniture is on top by changing the settings in your Neohome. For instructions on this and many other Neohome questions, just type the word 'neohome' into the search box in the yellow side bar.
When you first started Neopets did you ever think you'd end up like this? With so many players and selling plushies and stuff in stories?
Honestly no, it's great that it has become so popular but it has far surpassed anything either Adam or myself ever imagined.
I'm too afraid to throw it away on a guess, but does, for instance, a Kougra Transmogrification Potion do anything to a Kyrii?
Yes, your Kyrii will turn into a mutant Kougra.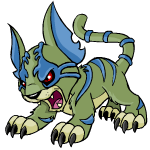 Grrrrrrr...
What species is Dr.Sloth?
He is not a Neopet, he is from somewhere very different to Neopia. If you want to find out more about Dr Frank Sloth, why not try reading his Neopedia Article?
Why does everything at the hidden tower cost so much?
Because it's super powerful and extremely rare.
Umm.....Why is there a pikachu at the gallery of evil?
I don't know what you are talking about, its just a yellow thing, it has nothing to do with pikachu at all :)
Where do you get tokens for the Neggery?
You get the tokens from the Neggery. Simply take a Negg to the Neggery and you can exchange it for some tokens. How many you get depends on how rare the Negg is.
Is it possible to have a bed for your Neohome?
Yes, there are a number of different beds on sale including some pretty wierd and wonderful creations.



When I looked up someone's username page they had a trophy for third place at theme park. WHAT ON EARTH IS THEME PARK?
It was a really old feature that we used to have way back in the old days. It never actually got finished so we took removed it and the people that had the best theme parks received trophies for their efforts.
Donna, what breed is your dog, Honey?
Erm.. well she is supposed to be a border collie but she is too small and fluffy, she is just a mongrel :)
If you have any time, why don't you make Neopets games for Game Boy Advance and Game Boy and things...like take NeoQuest for example. That would make a GREAT Game Boy/Game Boy Advance Game.
Wouldn't it just... well we are having talks with several computer game companies and we will see what happens. Fingers crossed Neopets games will be on sale eventually.
Will there ever be BOY stuff for claires and Limited too stores?
There won't be in those stores as they have a predominantly female audience although we are designing more boy themed merchandise that will go on sale in independant stores such as toy shops, hobby shops etc.
Are Magic Cookies really going to become unbuyables?
Nope, this is the first I have heard of it :) Its just one of those silly rumours I guess.



How come, even though the New Features says, "Once a day you can pay Neopoints to go around Merri Acres farm and go picking yummy berries for your Neopet TO EAT!" I am unable to feed my neopets the berries I find?
You can now feed your Neopet the berries. This was just fixed after the first day.
How do you pronounce "LUPE". Is it "loop", "loo-pee", or "loo-pay"? I've heard it pronounced all three ways.
There is a special page that tells you how we pronounce the various Neopet names (I know Draik and Ixi are yet to be added) and some tricky Neopian words. You can find it by clicking on 'World' in the yellow side bar and then clicking on 'Pronounce'.
Is the Fungus Bed made out of fungus? Yuck! Also, my Chomby wanted to know if it's part of the funky furniture set?
Yes, it really is made out of fungus and it is part of the whole fungus set. Only the curved set of drawers are funky fungus, the actual set is just fungus.
---
Need more help?
If you have a question that you think should be answered here, e-mail it to editor@neopets.com. The most common questions will appear here next week.