Editorial
Just outta curiosity, will there be any more games similar to Ski Lodge Mystery or Krawk Island Cup coming soon? just wondering...
Yes, we were just talking about that this week. I am not sure what it will be, or when, but there will be another one coming up.
Is it true that the book called Learn to Fly only works if your pet has the ability?
No, any Neopet should be able to read that book. Some may have no interest in flying and may refuse to read it, but that depends on your pet's individual personality.

If a piece of a map is "retired" does it have any value or use?
No, it doesnt have a use, but it is still valuable as it is rare and no more will be added into Neopia.
Do any people on the neopets team have a hotmail address?
No, and no member of staff will ever ask for your password either. We will never email you directly, the only time you will be contacted by a member of staff is when we answer an email you have sent us.
Week after week I try to get a Tonu but I can never get it. Is it true that there is a Magical Tonu Plushie?
Yes, there are several. There are also Tonu Morphing potions on sale in the Magic Shop from time to time.



Does the Baby Transmogrification potion turn your neopet into a baby, or your baby into a mutant?
There is no such thing as a baby transmogrification potion. If we do baby pet potions they will be species specific, such as a Baby Gelert Potion etc.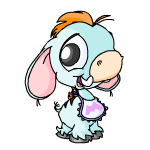 I have looked everywhere for info. and i have no idea where Neopets HQ is. Could you please tell me atleast the state or country?
Neopets is based in California, USA (although it was originally based in Surrey, UK)
I recently saw an advert for Neopets in a magazine, was the guy in the advert Adam?
Ha ha.. No! Adam is WAAAYY to ugly to appear in a magazine :) Didn't I tell you we all looked like mutants?
Are you going to invent a new Neopet soon?
Yes very soon... although thats all I am going to say!
Why can we only have 50 items?
You can have as many items as you want, you just can't carry more than 50 at a time (Can you honestly imagine carrying more than 50 items around with you?). Just go to the bank and get your free Safety Deposit Box. Then you can store as many items as you want and take things out at any time.
No new pictures have appeared in the neopets art gallery for over two weeks! What's going on, Donna?
I know, I know... Things have been extremely busy in the past two weeks (you will see why shortly) I promise I will do lots of gallery entries next week to make up for it.
Why is it that when I feed gross food like strawberry artichoke to my pets they appear to be sick?
If you ate some of those foods, wouldn't you feel sick too?



What is the difference between the Usuki Gardening Set and the Usuki Neogarden Set? Are they the same thing?
They are two different sets that were released at different times. They each have cool garden related Usuki items inside, but the sets are not the same.


How are the Neopian Lottery numbers chosen?
They are randomly selected each day.
Is Adam older than Donna or vice versa?
There isn't much in it, but Adam is slightly older than me.
I have finished both battles of Defenders of Neopia, but I don't have my second trophy. I've seen others with them, so I was just wondering what happened.
Are you sure you went back and clicked on the 'Claim you reward' button? Once you do that your trophy will be updated.

Will you be able to receive a warning from theneopetsteam if you have allowed only neofriends to send you neomails?
Yes, if you do something wrong you will recieve warnings regardless of the options you chose.
On Thursday I went shopping at a Limited Too in Columbus, Ohio, and they had Disco Aisha Plushies for sale there! Why did they have them 2 days early?
They shouldn't have really, the official launch date is Saturday the 22nd, although some stores get a little too eager and put them on sale as soon as they receive the shipment. It varies from store to store, so it is always worth phoning ahead to check they have them in stock.
You have like the meaty treat pasty and the exploding pasty and some more....is it supposed to be pastry or is it pasty on purpose?
Its pasty on purpose. A pasty is a delicious snack that is normally some kind of hot filling wrapped in pastry. They are particularly delicious in Cornwall, UK if ever you get a chance to go there.



My friend logged in to Neopets, and when she checked if her pets were hungry, it said that her Grarrl had become hungry so he ate her one of her items (not an edible one)- can you please explain this to me? I was considering on creating a Grarrl for my fourth Neopet, but now I'm having second thoughts...
If you own a Grarrl and you do not keep it fully fed, it is possible that he/she will just help themselves to one of your items. Grarrls and Skeiths can eat absolutely anything - even petpets (Gross!)
How often does new get issued?
As you can see from New Features (click on NEWS in the yellow side bar) we add quite a lot to the site everyday. If you are referring to The Neopian Times, that comes out once a week, usually on a Friday.
---
Need more help?
If you have a question that you think should be answered here, e-mail it to editor@neopets.com. The most common questions will appear here next week.