Editorial
In the gourmet food club does the "rare foods" include omelettes?
As long as the item has a rarity between 90 and 100 it is classed as a Gourmet Food! Omelettes have a rarity higher than 100, so they are not classed as gourmet.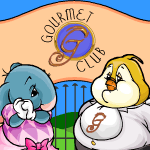 One would hardly class something you
scrape from a rock as gourmet!
Do I need to colour my artwork to let it be chosen for the Art Gallery?
No, Your picture can be drawn on the computer, by hand, in colour, black and white, water colour, painted, glued together, anyway you want. As long as it is interesting and 100% your own work it has a very good chance of getting in the gallery.
Are there a limited amount of Krawks?
No, but they are pretty rare so they are hard to get hold of.
If you want to show off how many and which books your pet has read, (even if she hasn't read enough for a trophy yet) how do you do it?
You can find out how many books your Neopet has read by going to 'Quick Ref' (click on your pet's name in the yellow side bar). Click on your pet's intelligence and it will show you how many books they have read and which ones they were. Other people cannot see this, so the only way you can show off is to put it in your pet's description or on their webpage.




I see many players posting that your password will show up as ********** if you try to post it on chat or in neomails. Is this real?
No, its just a stupid scam to fool you into typing your password on the message board. We do stop you sending your passwords via neomail, but we don't want to block it from the message boards as people do have obvious dictionary words as their passes so won't be able to type certain words. Please DO NOT give your password away for any reason!
Why is it that our message display on our guild is decreasing instead of increasing? We have reached over 1000 messages....and we are now at 8!
This could be because a member of your guild that has the admin ability to delete messages chose to erase old messages. It could also be because a member of your guild was frozen or received a warning and had their messages wiped.
I had two or three Disco Dude Collector Cards. What happened to them? I had one in my shop, I had one in my NeoDeck. I have also noticed that in using the Shop Wizard, looking for this card, nothing comes up. It has also been taken out of the line up of Collector Cards. Please explain.
We have been slowly replacing all the not so good collectable cards with better characters and images for the past year. If we are going to print collectable cards we want the characters to be more interesting than a lupe that likes flowers, or a gelert that eats neggs. They are almost all done now, but Disco Dude was one of the cards that was replaced. You still own the cards, but they have changed into whatever Disco Dude was replaced with.



I have been hearing about a school for neopets but I wasn't sure if there is one, is there a school or not? (if yes) where is it?
There isn't a Neopian School, but there is a Training School on Mystery Island and a Swashbuckling Academy on Krawk Island. You can also make your Neopet more intelligent by reading them books.
Whats The Point of "Restricted" pets! I think its just an evil scheme to move lennys to first *gak*
Awww... you wouldn't like it if everything was easy :)
All four of my pets are lupes.Two don't mind eating a Baguss but the other refuse to eat it. Why don't they all like the same thing??
Every Neopet is an individual. They all like and dislike certain things regardless of their species.



What if I saw an account that is 2 years old....It has no Neopets, No Neo-store, No nuttin on it can u possibly make it mine?
No! We will never give any old accounts away no matter how unused they look.
---
Need more help?
If you have a question that you think should be answered here, e-mail it to editor@neopets.com. The most common questions will appear here next week.