Editorial
When is the Trading Post coming back?
We took the Trading Post down as it was causing a lot of problems. It is being completely re-written and should be ready to go back up sometime next week.
If I report a shop or someone else, will they know it was me or will it be discrete?
If you report a shop it is complete anonymous. There is no way for the shop owner to know who reported them.
How do I contact my neofriend if his/her mailbox is full?
You need to wait for them to delete some of their neomessages. Try contacting them via the messageboards instead.
Is there another way to get fountain passes besides signing up with sponsors?
Not at the moment, although soon the Rainbow Fountain will be available to everyone (even under 13's).
On the chat boards, people are saying that if you AIM (Aol Instant Messanger) the a certain username, and you give him your password, he will give you 500,000. Is this true?
No, this is just another scam. No member of Neopets staff will ever contact you through AIM. Neither will they EVER ask you for your password, if you ever see anything like this, just report it to abuse@neopets.com
What happened to the Volcano?
The third Tyrannian map didn't really have anything on it. To make it easier for everyone to get to things we moved all the active links from the Volcano to the Plateau. Now it should be much faster to find games such as Kacheekers, and the Tyrannian Weaponary.
What's going to happen in Maraqua?
All will be revealed very shortly... it is just the beginning of a new world. Keep checking new features for more info :)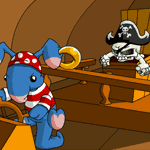 Can I have a contest in my guild?
I am afraid we cannot allow any contests anywhere on Neopets. There is no way to make sure that the contests are legitimate. The majority of contest winners are just friends of the shop owner, or fake accounts. We know a few people did award prizes to real winners, but there is no way for us to check this so we have no choice but to ban them completely.
Can you change the name of your Neopet?
Once a Neopet is created, I am afraid you cannot change its name. Even if you adopt it from the pound.
Can I heal my Neopet for free?
Yes, you can always try visiting the Healing Springs in Faerieland. A kind Water Faerie will try to help your Neopet.
---
Need more help?
If you have a question that you think should be answered here, e-mail it to editor@neopets.com. The most common questions will appear here next week.