Headlines
Trriicckk orr Treeaaat!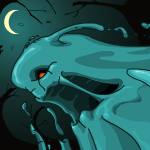 This week's issue is brought to you by: The Esophagor
Other Stories
El ChupaIxi
"What are we doing?" Cor said. "Don't you know it's Halloween? We're out doing… Halloween-ish stuff, of course!"

by tdyans
---
Halloween Hunt
"That's just it. I don't want to be adorable. It is almost Halloween. I want to be scary..."

by skier_chic
---
---
Make Your Own Spooky Foods
Here are some fun spooky food recipes that you can make at home to freak out your friends, or feed to your Neopets for a virtual party...
---
---
---