I am constantly amazed at people who overlook Kiko Match as a way to earn LOTS of NP very quickly. I always make Kiko Match my first game of the day since it injects about 1500 NP into my account with only 3 or 4 minutes effort. Use my method and I guarantee you can raise your level of play to where you will consistently make loads of easy Neopoints every day on this game!
I believe that Kiko Match is the one game on NeoPets that gives out the largest reward in the smallest amount of time and is always winnable. Best of all--it's FREE to play!
Kiko Match is a Flash Game so it will open in a new window. Sometimes this takes a bit of time if you are using a modem (like me). Go check on your stocks or your shop while the game is loading. (if you don't have much memory on your computer - close your browser window when you are ready to play, it makes the faces show up significantly faster)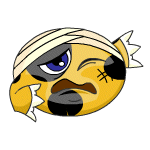 You begin with a score of 150, which is shown in the lower left corner and a time bonus beginning at 200, which is shown in the lower right corner. You will lose 10 points for every set of Kikos you reveal that are not pairs and the time bonus score will be reduced 5 points every second until you finish. Get over 110 and your overall score is doubled! So you will need to match the cute Kikos as fast as possible.
Here is how I do it ---
You will see six different Kikos - a yellow smiling face, a yellow evil grin face, a red face with glasses, a teal toothy grin, a green angry face and a blue face with the tongue sticking out.
For my method, I recommend you give them all names. Just the colour name will do for all except for the two yellow ones. Call them something different like happy, mad, nice, mean, Joe, Sam - anything at all, but something you will easily remember. Name them after cheese!
Once you are ready, click Play. Be ready to start clicking the moment the Kikos are loaded. Remember you lose points for time lost.
Start at the same place EVERY time you play. Always go in an orderly fashion--don't click random. It does not matter if you choose to go up or down or diagonal, or if you start in the first row or the last row--just use the same pattern EVERY time.
Open two of the faces. Say their names out loud to yourself as they open up. Open the next face, if it matches one of the first two, go click it's mate, if not, click the next face. Say the name of every face at it is revealed. Click quickly. The rest of the clicks should all be matches to ones you have previously opened. You should only open a maximum of three or four non matches this way. I know it will seem awkward at first saying the names or colours out loud, and working in a pattern, but these are scientifically proven memory techniques. If you try it several times you will see the difference.
Example: (from a real game I just played)--you open the first Kiko, it is the red one, say red. Quickly click the next Kiko, it is the teal one, say teal. Those will close. Quickly click the next Kiko, it is the blue one, say blue. Quickly click the next Kiko, it is the green one, say green. Those will close. Quickly click the next Kiko, it is the blue one, quickly click the third Kiko you opened--a match! Those will disappear. Quickly click the next Kiko, it is the red one, quickly click the first Kiko you opened--another match! Quickly click the next Kiko, it is the cheeky yellow one, say it's chosen name. Quickly click the next Kiko, it is the cheeky yellow one--an automatic match! Those will disappear. Go on this way until the board is cleared. Practice the technique a few times before you hit the send score button. Remember, you can only get Neopoints 3 times a day for this game, so you only want to send your best scores, which will be automatically doubled into lots of fast and easy Neopoints
You do not have to open a new Kiko window each time you play-- the time bonus is reset to 200 every time it reloads for the next turn.
After this technique becomes a habit for you, you will soon be easily getting daily scores of 1200 NP and over.
Go give this fun game a try right now. It is appropriate for all ages and will really give your NeoPet bank account a quick boost.