MERI ACRES - Having trouble getting your tower of strange purple vegetables to stand up? Or does your tower stand up, but you can't seem to make any profit from it? Take a look at this guide and you should be well on your way at the wonderful art of turnip stacking!
All of the following tips are based on my own experience, and a few theories I have put together. You cannot be certain that this will work for you, but it has worked for me!
First off, you must realise that these are Neopian Turnips, not normal ones. They can do magical things that you might not expect, as you shall soon see!
Your first instincts may have been to create a nice wide base to make sure that your tower will be stable. A sensible choice… in real life… My number one rule for a profitable tower is to keep your base SMALL! "Why?" I hear you ask… well, for two reasons:
1) Because the number of points you gain from stacking turnips is divided by the number of turnips on the bottom row, the wider your base, the less valuable each turnip is that you stack.
2) Like it or not, 'Tower Of Turnips' is partially a game of chance… Your tower can collapse at any time (I once had mine collapse when I placed my second turnip on layer one. It wasn't even off the ground! It seems impossible.) So I suggest you get as high as you can as quickly as you can!
3) You don't actually need a wide base for your structure to stand. As I said, these are magical turnips that can do magical things. Take a look at some types of tower you can build: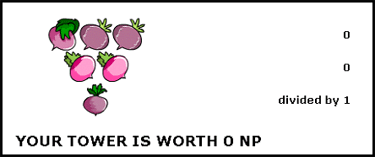 The Reverse Pyramid: Surely this would not be possible in real life, but it is on Neopets! So you might want to try things like this! You could try to continue building it outwards, or you could start to build up in threes (as shown below) from this point onwards. The faster you get higher the better, because the more turnips you add, the more the chance of the tower collapsing grows.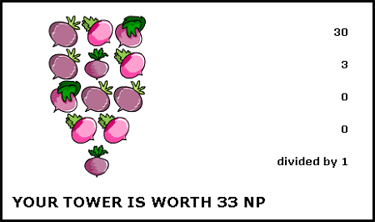 Remember that you only start making Neopoints once you reach row 4. From then on the value of a turnip multiplies by 10 for each row. 1, 10, 100, 1,000, 10,000, etc.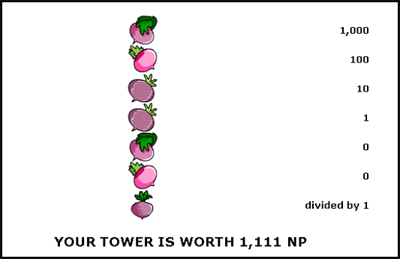 The Skinny Tower: My favourite method, just build up the tower one thick all the way up. You only have to get to row seven and you have made a considerable profit. I manage to do this about 1 out of every 3 or 4 tries, so you can make a few thousand Neopoints in 10 goes. I always stop here, because row 8 always seems to collapse instantly, that is just my luck!
Building high and fast is my main theory, but it doesn't have to be done like that. A friend of mine, Specter9000, built his tower 3 wide all the way up, and 10 high. That is a score of 1,111,111… the highest score so far!
In conclusion, DO NOT build a wide based tower that gets thinner as it goes up, you will make very few Neopoints, if any at all. Either try to make your tower curve outwards or make it straight as it goes up!
Thanks for listening! Now go a'stacking and never be troubled by turnips again!