BATTLEDOME - After my great investigative report involving NeoHome bathroom conditions, I was contacted by a mysterious source that wanted me to get to the bottom of the newest sensation to hit Neopia - Kasuki Lu, the Sumo Chia! Following is a transcription of the phone call I received yesterday at my NeoHome (MS= Mystery Source):
Shidi: Hello! Shidi's NeoHome, how can I help you?
MS: Kasuki Lu! (anguished cry)
Shidi: Bless you!
MS: No! No, I am cursed… cursed by Kasuki Lu.
Shidi: Kasuki who?
MS: Lu.
Shidi: Lou who?
MS: A big fat Chia in a red diaper!
Shidi: Oh… what about him?
MS: He's eaten everything in the food shop, that's what about him! He's starting to look at me kind of funny…
Shidi: Oh, you're that guy that runs the---
MS: No names! Just get down here and find out what Kasuki Lu is up to!
Now, I hadn't had breakfast yet, and wasn't really in the mood to head downtown from Faerieland, but I hurried my way through a stack of Hot Cakes and headed that way. Kasuki Lu… that name did sound familiar the more I thought about it. In fact, I'd seen his chubby face before... on a trading card, in my NeoDeck. Wow, I thought. The guy must be some kind of legend.
When I arrived at the food shop, the poor yellow Chia who ran the joint was muttering to himself and tearing at his hair. I cased the joint quickly for any trace of Kasuki Lu, or any food for that matter (I hadn't gone shopping yet that week) - but it was empty. Completely empty, and furthermore, there was a large bite right out of the countertop.
"What happened?" I asked the frightened yellow guy.
"…Kasuki…. Kasuki Lu… he ate everything! He almost ate me!" said the shopkeeper, in a voice that sounded suspiciously like my mystery source, only more terrified and high pitched.
"Did you see which way he went? Any clues?" I asked, anxious to get the story.
"All he left behind was this…." The shopkeeper showed me a Kasuki Lu trading card.
"Oh, the vanity!" I gasped, and looked the card over. "Ah-hah! The Battledome! I bet this crazed diapered Chia is just looking for trouble!"
Off I went to the Battledome, carrying the Kasuki Lu card along with me so that I'd be sure to recognise him when I saw him. After a bit of thought, I realised it probably wouldn't have been all that hard to find a huge Chia in a red diaper and sandals. Indeed there he was, in the middle of a ring, shouting things like "Bonsai!" " Usuki Sushi!" and of course "Chiafrower!"
"Mister Lu!" I called "Kasuki Lu!"
"Kasuki who?" asked a little Kacheek who was getting ready for the ring.
"Lu!" I said.
"Lou who?" he asked.
"Oh, never mind. The big fat Chia in the little red diaper!" I said, pointing. Suddenly the crowd gasped and was silent. Kasuki Lu turned right towards me, glaring angrily. Uh-oh.
"Who you calling fat?" he glowered, stomping my way on his red sandalled feet. I wasn't sure whether the whole ground was shaking, or it was just me.
"I… meant pleasantly plump. Radiantly rotund… " I stammered, backing up a bit.
"Oh… haha… okay." Kasuki Lu smiled. Hey, apparently, he wasn't all that bad. I figured what the hey, while I was already this close to having my head bashed in, I might as well ask for an interview.
"Kasuki Lu… my name is Shidi, and I'm a reporter for The Neopian Times…"
"Neopian Times… very good paper. I use Issue Three all the time since my NeoHome have no plumbing. Hahaha!" He slapped me on the back in a friendly "get the joke?" kind of manner. Of course, this caused me to stagger forward about two feet, but it was a good start. Once I caught my breath again, I continued.
"Would you like to say a few words to all the people out there in Neopia? I'd just love to do an interview with you," I said, wincing just a bit. The pain… I hoped he wouldn't make any more jokes.
"Ah.. yes, very good. I would love to let you interview me, the famous Kasuki Lu. On one condition, however…"
I braced myself. What would he ask for? A fight in the Battledome? I'm a writer, not a fighter- that wasn't a great prospect.
"… you must have tea with me."
"Tea?" I asked, blinking.
"Mint Tea. And sushi rolls. My favourite! I'm starving!" And with that, Kasuki Lu started stomping off towards the Coffee Shop. I was a bit confused as to why he'd go there, considering I'd never seen sushi rolls in the Coffee Shop before, until we arrived.
"Eeeek!" cried the Shoyru lady at the counter "Kasuki Lu! He's back!" The staff of the Coffee Shop hurried to set up a special large table for him, heaping it with tons of sushi and a huge pot of tea with two very tiny delicate teacups. Kasuki Lu hunkered his massive bulk down into the chair and began to eat.
"So… Kasuki Lu… what an unusual name. Does it mean anything?" I asked conversationally, dodging stray bits of flying fish and seaweed.
"It mean 'delicate flower,'" he said, chowing down.
"Uh… very… um… descriptive…"
"… Are you threatening me?" he said, glaring over his teacup at me.
"No, no..." I gulped. "Moving right along… why do you wear that little red diaper? Incontinence problems? Or is this part of the whole lack of facilities in NeoHomes?"
"This… is no diaper! This is important Sumo gear! Very different!"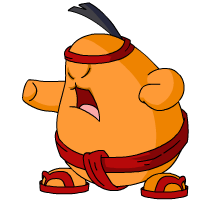 Did you just call it a diaper?
"Ah… I see. So what are your plans now that you're a big Battledome contender?"
"Big?! Is this another weight joke?! Grahh!"
"Ah! Huge contender!"
"Grrrrrr!"
"Contender of great proportions?"
"Rahhh!" Kasuki Lu flipped over the table, food and all. It was time for this reporter to get a move on. Kasuki Lu may be a… fantastic fighter, but he's sure not a great runner! I've still got my Kasuki Lu trading card and a handful of fish products that didn't quite come out of my clothes as a memory of my interview.
So remember, Neopians, if you want to fight a fabulous challenger of huge proportions, Kasuki Lu is waiting for you!