How Dr. Smock Got His Calling
If you stroll by the clinic in Neopia Central, and see the name "Dr. Smock - PetPet Surgeon" in big letters, it might be hard to believe that a pet with that name would ever consider a different destiny in life, other than the field of medicine. But there was a time when Dr. Smock, a handsome Blue Bruce with a lovely tenor voice, thought that he would always continue the family tradition: entertainment.
As everyone knows, Bruces are great entertainers. Dr. Smock's family is no different. His father Satin Smock did lounge shows for years with the Smocktones, before semi-retiring and opening the Smock-a-roke Karaoke rental business when his children were born. "I named you Dr. Smock because I thought it would make a hip stage name," his father always told him. And frankly Dr. Smock was a natural with the microphone, and he could warm up a karaoke party faster than any other bird, when he started crooning, "Turn on your Sharklight" or a rousing chorus of Tyrannian Rhapsody.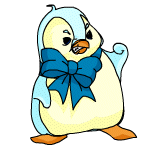 Young Dr. Smock


Then one day, walking home from school, with his friend ShoooBop, there was a horrible accident. ShoooBop's Wadjet named Wiggler suddenly darted out into the street and was hit by a passing truck that was heading to the Chocolate Factory. But don't worry, because it didn't really run over him, just sort of nudged him a little due to the fact that the driver was only cruising at a prudential speed.
Nonetheless, Wiggler was thrown rather brusquely into the gutter, where he let out a little cry. ShoooBop was inconsolable, and ran wailing to his Wadjet. Dr. Smock suddenly took over.
"Careful! Handle him very carefully, like this," gently rolled Wiggler onto a small board to use as a splint. Once they had him immobilised, they carefully carried him home to his pen, where they laid him gently on his bed. Dr. Smock made a mixture of Hot Soup with some Healing Potions added. After drinking this, Wiggler perked up a little.
For three days the two friends stood vigil over Wiggler, never leaving him alone, and helping him to the bathroom without disturbing the splint. They kept feeding him the Soup-Potion mixture, and by the end of the week, Wiggler was able to crawl around his pen on his own again. After two more weeks of recuperation, Wiggler was as good as new.
A few nights later, Dr. Smock went to talk with his dad. "Dad, I know that you have big plans for a recording career for me, and I love entertaining, don't get me wrong. But this incident with the Wadjet has changed me. I feel like my flippers were made for something other than spinning records. I think that they could learn to heal the wounds of life, in the little creatures around us."
Satin Smock looked at his son gravely. "Are you talking about PetPet Surgery, son? You know it's a long difficult course of study; you'll have to go away to the University."
"It's what I want dad, and I feel like this is the reason you named me Dr. Smock."
From that day on, Dr. Smock's destiny changed. He started taking advanced maths at School, and several years later, when he graduated, he left Neopia Central for the University of Neopia, on the other side of Faerieland.
Seven long years later, he returned to Neopia Central as the beloved and respected Dr. Smock PetPet Surgeon. But he still likes to wail on the mike, now and then.
To be continued...