My name is Fiddlestix and I'm a Faerie Gelert. I have the second-best owner in the whole of Neopia; his name is Marcus and he's a Neopian scientist. Who's the best owner in the whole of Neopia? Why, you of course!
***
"Here you are, Fiddlestix," Marcus handed me a bottle of a slimy, yellow liquid. I'm his test subject. You wouldn't imagine the kind of things that happen to me--you honestly wouldn't. I've been a Wocky, a Grarrl, a Scorchio, a Krawk, and even a Tonu, though technically I'm a Shoyru at heart.
I uncorked the bottle and sniffed suspiciously at the liquid inside. It smelt of rotten Juppie and stale Faerie Pancakes… and maybe just a bit of Lost Desert Sand. (I should know, I've been a Desert Kyrii before). However, I gulped it down and awaited the result.
Nothing happened at first. Mind you, this is perfectly normal. Once, Marcus gave me a a green potion to drink, and it only started taking affect one hour after I drank it. I waited for a few minutes, staring into the mirror. Marcus got me a very nice full-length mirror, so I can always see what I'm turning into.
Then, the pain started kicking in. The pain was excruciating! My insides were twisting and churning and burning. I howled, but Marcus simply stared at me as if I was King Coltzan back from the dead. In fact, if King Coltzan had indeed risen from the dead and had walked into the room just at that moment and said "Hi", I doubt Marcus would have done anything. He was just rooted to the ground, staring motionless with dreamy eyes at me.
What have I become? I thought, jumping to my paws. Wait--I didn't have paws. I caught a glance of myself in the mirror. One word hammered out everything else, "No! No! No!" For one thing, I wasn't even a NeoPet. I wasn't even a Bagguss. You wouldn't BELIEVE what I was!
I was a Slorg. I had shrunk down to the size of a typical Slorg, and I was yellow with horrendous slimy spots. So that's why the liquid was slimy and yellow. I tried to speak, but I couldn't say anything!


...
Marcus, for one, knelt down on his knees and picked me up. His voice became all weird and quiet, and he was whispering. "From a Faerie Gelert to a yellow Slorg," he murmured. Then, he suddenly threw up his arms (sending me flying through the air, and landing smack on a table) and exclaimed, "PetPet Transmogrification Potions! I'll be rich!"
***
"Here. Drink this, it should turn you back to a Shoyru," Marcus handed me a bottle of purple liquid with two purple wings sticking out of the sides of the bottle. I peered at the little writing on the cork. "Kauvara Manufacturers" it read. (I was probably the smartest Slorg alive at that moment, being able to read and write.) A-hah! Something official! It wasn't one of Marcus' lousy home-made potions. Marcus took off the cork and poured a little bit of the liquid onto the floor. Trying my best to slurp it up, I stuck my tongue out, and in a few seconds, I was a purple Shoyru.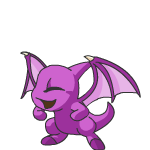 Yahoo! Wee! Hooray!
How marvellous! How fantastic! How wonderful I felt! I began jumping up and down on the floor because of pure excitement. I wasn't a Wocky with a strange ruff around my neck, I wasn't a Gelert with an funny long tail. I was a normal, average, Purple Shoyru once again!
***
Hi, I'm Fiddlestix, and I'm a purple Shoyru. My owner is the best in Neopia, and just about the richest. We've started our own company, "Fiddlestix Products, Neopia" which is named after me. We've produced our own PetPet Transmogrification and Morphing Potions. Guess what our very first project was? Yup, you guessed it! One million bottles of Yellow Slorg Morphing Potions. Who knows what Neopia will come up with next? A PetPet NeoHome? Who knows?
The End