As Taliance and I made our way up the slippery trail to the haunting entrance to the Snowager's Lair, I was somewhat nervous. Not because I was afraid of the Snowager, but rather because this would be Taliance's first time meeting the Snowager in person. The Snowager and been friends and longtime chess rivals for quite some time, since I refused to try and greedily snatch his treasure trove of items from under him while he napped. (I only had to get blasted once to learn my lesson…)
After I had taken a Lampfish out of my backpack, we ducked under the low hanging curtain of stalactites and I guided Taliance through the familiar twists and turns of the damp cavern. Almost by instinct, I stopped in front of a large mass of various toys, Neggs, and obviously rare artifacts. Taliance gasped with delight and started toward the large pile of treasure, but I held her back. I reminded her of the day I came home with a pair of frozen pants on, and she quickly remembered to keep her distance. It was apparent that the Snowager wasn't around just yet... so I took it upon myself to set up the chessboard. It wasn't long before the loud groaning of stalagmites crashing to the ground signaled the return of the large ice serpent. He had a rather smug look on his face.
"Just now waking up, I assume," I commented, as I set my pawns in a straight line. "Hope I didn't wake you when I came in."
The Snowager let out a long yawn, then snapped up a nearby Ice Negg that had rolled free from the stash with frightening speed.
"Yeah... I didn't get much rest... spent most of my time chasing away would be robbers."
I adjusted my icy chair (which wasn't that comfortable) and set up my rooks and knights.
"That's no surprise," I replied.
"You'd think they'd learn the first time after they catch a few icicles in the behind." The Snowager took his "seat" across the chessboard from me. "Oh well," he stated. "Let's not think about them. Ready to lose?"
I moved up my pawn to block his knight from advancing... he'd obviously been practicing! I tried to hide my tension by starting up something new to talk about. "Uh... so anyway," I started, noticing that my knight was wide open, "You never did tell me how you came to live in Neopia or about your huge hoard of items…"
The Snowager looked up for a quick second, then carefully moved his rook up to take my knight. "Well... I'd say that I didn't come to Neopia... Neopia came to me, speaking in terms of discovery. Check."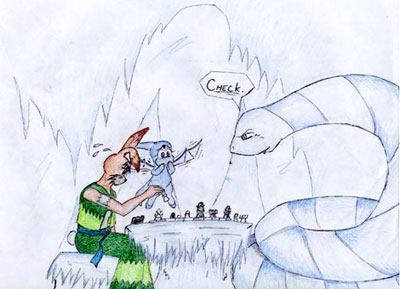 "Is it cold in here or is it just me?"
He continued on as I struggled to put up some kind of defence. "Let's see, about my treasure... well, I'm just as much of a collector as anyone out there who owns a gallery. I love to collect things... although I have to rely on the winter winds to blow things in here. Over the years, that collection has gotten really big... big enough to attract visitors of the darker sort, if you know what I mean. There's not much a large ice snake can do outside of his cave, so seeing my collection grow is pretty much what I look forward to every day. Oh, and check."
I gingerly moved up my remaining knight, hoping by some miracle I didn't leave my king unprotected. "Yeah, I guess I'd be pretty upset too if every time I tried to go to sleep someone tried to take all of my belongings," I answered, wondering where in the world the Snowager learned how to play chess.
"Yep," he replied, effortlessly taking my knight with his queen. "It's an everyday thing. You know... I bet I have a pretty bad reputation for being a big ol' bully, but I don't really care. Checkmate. See you tomorrow?"
"Uhhh... yeah…" I stammered, trying to figure out how that rook managed to move up on the board so quickly. "But next time, I WON'T lose! At the least, I'll make you work for your win.
"Heh, if you say so, rabbit," the Snowager replied, noticing a small movement out of the corner of his eye. "Just a second, I think I spotted a visitor... hopefully coming to visit me and not my stuff…"
As I gathered my things (and answered a bazillion questions posed to me by Taliance) I came to the conclusion that being the Snowager had to be a tough job. He's misunderstood, that's for sure. All of those "horror" stories told by people who failed to steal something from the Snowager's cache of items can't be completely accurate. After all, wouldn't you be blasting people left and right if every time you went to sleep someone ran off with some of your stuff? I'm sure if people put as much effort into trying to be friends with the Snowager as they did trying to take all of his belongings, they'd find that they wouldn't get blasted nearly as much, and they'd probably have someone to play a nice friendly game of chess with.