How many Neopians do you know that get excited about winning a jar of Pickled Olives, Sandals, Volcanic Rock, Palm Fan or a Tiki Tack Key Ring?
Not too many users enjoy getting these useless "Booby Prizes" when playing the beloved Tombola game. If you are a dedicated Tombola player, you have the game book-marked and log on to get a ticket every day. But oftentimes, players are disappointed when receiving a useless item like a Toy Sail Boat. These useless items are like fruitcake; everyone just keeps passing it on. Some donate it to the Money Tree, others attempt to trade it at the post, or sell it in their shops, some even try to make collections out of it!
One could get rid of the items to someone else by selling, trading, or donating but they wont have anything to do with the item but pass it to the next user.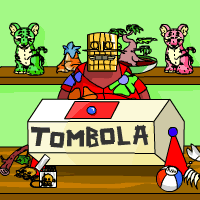 Booby Prize Master
Although you are ridding yourself of the problem, you are just handing the problem over to another user. The problem will never end until these items are nonexistent or made useful. These items do nothing but take up a giant amount of space on the neopets server and why keep trying to pass them around if no one can use them? What is suggested is that all Neopians discard all of these Tombola items immediately. Perhaps as they suddenly disappear, the mysterious Tiki Tack Tombola man will realise his mistake.
If he does, Tombola players will no longer have to worry about what to do with useless items and can begin to receive items that will benefit their pets. Not sure of what to do with those Tombola prizes? Become a part of the Tiki Tack Tombola Mission and discard those Palm Fans today!