Three days took us along the shores of the Lesser Neopian Sea, at which point we landed in the frigid Happy Valley.
The loudspeaker crackled, then we heard the captain's voice, saying, "Points of interest here in Happy Valley, located at the foot of Terror Mountain, include several snowball fight games, a Slushie shop, and the annual Happy Valley Christmas Beauty Pageant. The path to our right leads up to the peak of Terror Mountain, while that small cave just up ahead is the entrance to the Ice Caves. The Aquamarine will remain anchored here for four days so you can fully enjoy the scenery, food, and fun this locale has to offer. Thank you."
Everestik ran off first, shaking the salt out of his fur and bounding over to the Snow Wars arena, where a fast and furious game was already in progress. I hurried after him, closely followed by Dervetta and Ivy. Ellimistio was asleep, so we didn't bother to wake him.
"This looks like fun," Everestik said, watching the two pets--a silver Peophin and a purple Shoyru--play the game. It was an interesting setup, which I'll try to explain.
The two players shot snowballs from their catapults at a wall. Behind each player was a setup of sculptures, set up on a grid. The walls were also marked with a grid, and if one hit squares that had the same coordinates as sculptures on their opponent's side, a pile of snow would be dumped on that sculpture or part of a sculpture. Each player could refer to a screen that showed where they had shot the snowballs and what they had hit.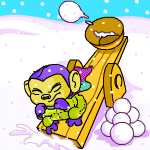 After we'd watched that game (the Peophin emerged victorious), we bought a few slushies and headed back to the Aquamarine, where Ellimistio had just awoke. After all five of us had finished our slushies and Ivy had given Ellimistio a rather embellished version of the Snow Wars game we'd watched, we decided to take a hike up Terror Mountain. We bought several items at Mika and Carrassa's garage sale, then watched a few skiers practice for the Alpine Challenge.
Our time at Terror Mountain was sheer bliss, but things started happening when we set off for Mystery Island...
A day into the trip, we spotted another ship. It was gigantic, with four huge sails and a black flag with a skull and crossbones flying high. We talked to another passenger on the ship, a green Acara named Meadowey, who explained that around this time of year, the islanders would sometimes send out "pirate" ships to trick tourists, so it was probably just a bunch of Myncis from the island ready to welcome us in. That ship still made me nervous, though...
The next morning, I awoke sensing that someone else was in my cabin. I didn't panic, thinking it was another passenger waking me up because I'd overslept, or that it was one of my pets asking for some of the food I'd procured at the Garage Sale. But as I opened my eyes, I realised it wasn't. It was a floating skull with arms, wearing a hat and a black patch over one eye.
"What kind of prank is this?" I asked. It was too early for me to think properly, so I assumed it was an islander's trick.
"Prank? I'll show ye 'prank,' ye scurvy landlubber!" The thing said. It could talk? It moved its mouth? This was a great trick!
"Okay, it's no use pretending, I know this is a prank, so you can turn this thing off now!"
"Silence or ye'll be the one turned off!" The pirate thing said, pressing a blade to my throat.
It was about then that I realised this was no trick...
To be continued...