Illustrations by evil__sakura
Not too long ago, in the heart of Neopia Central lived a small Gelert family, somewhere along Bracknell Road, one of the many different families that lived in that area. The family was made up of a father, a mother, two female Gelerts and one male Gelert, nothing highly unusual, but they were an enjoyable bunch of Neopets all the same. The name of the only male Gelert in this family, besides his father, was Brandon, and he was quite the oddball of the family. Unlike everyone else that he lived with, Brandon was awfully shy and often spent most of his time by himself. To top it off, his appearance was not similar to the kind found on almost any Gelert in Neopia. His plume, which was supposed to be long and whip-like, fell short from where it was connected to his rump. Brandon's paws were quite large, and his limbs had a rather chubby structure, which helped add to his abnormal appearance. Unlike his siblings, Brandon owned a rugged, crimson color of fur.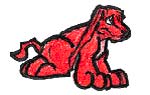 Unfortunately, due to the different traits that he had, Brandon kept himself away from all of the other Neopets around his age, especially at school. It was normal for students to tease one another for looking different, but Brandon always found himself the subject of disapproval. As the days passed with this experience, Brandon made the judgement that all Neopets were this way, and found himself better off alone.
Naturally, as parents, Brandon's mother and father observed their child's slightly eerie behavior for quite some time. Brandon's mother especially found herself worried -- she knew that her son was a bright creature and it hurt her so to see that he had never had any relationship with anyone outside of his house family. Brandon's father wasn't quite as worried at this point, because he still loved his son whether he was similar to everyone else or not. However, he wanted Brandon to be happy.
So his parents advised a plan.
Brandon continued on his way for a few weeks at a time, rarely speaking anything to anyone, but enjoyed himself nonetheless. Day in and day out, the Gelert would wake up, silently head to school, quickly finished his work and head back home in time for dinner. His parents silently watched over his shoulder until they thought it was time to put their plan into effect.
One evening while Brandon, his sisters, and his parents were silently gathered at their dining room table for that night's meal, his father stood up from the table and headed outside into the garage. Brandon's oldest sister Brittney let out an uncomfortable sigh towards her father's unexcused departure. Her striped colored fur seemed to glisten underneath the light of the chandelier on the ceiling as she inquired, "Where's dad going?"
Beth, Brandon's other sister, shrugged her shoulders. His sisters usually agreed with each other, due to the small difference in their age, and they rarely fought. However, Beth was recently painted the color Faerie to make it easier to tell her and her older sister apart. "Mom, isn't he supposed to excuse himself before leaving the table?"
Their mother nodded slowly. Brandon paid no heed as to what was going on with his father, and simply poked at the remnants of spaghetti on his white plate. Brandon's mother simply replied, "He should be back in a moment. You two finish up your dinner, now."
The room quickly fell silent again as a few more moments passed. The sun outside began to tiredly droop from overhead, and slowly helped itself to the lower half of the sky. Finally, the Gelerts' father entered the room. In his paws he clutched a brown cardboard box, which was tattered and torn, not to mention damp and rather stinky. The father looked quite tired, and dirt particles graced his black coat of fur. Finally, after catching his breath, he turned to face Brandon who was fighting off sleep.
Stepping over to the table, the father placed the box in front of his only son. Beth and Brittney frowned with envy both thinking to themselves that their geeky brother always got gifts and they were left behind to just clean their NeoHome.
"Well, go on and open it." Brandon's father offered a nervous smile. "Your mother and I found this for you. We hope that over time it will make you realize a few different things."
With a slight nod to show his gratitude towards his father's caring gesture, Brandon slightly cringed before opening the flaps of the cardboard box. Inside, he expected to be a few old issues of the Neopian Times or even a few of Neopia's prominent books for him to read. At least, that's what he wanted the most. Instead, as Brandon's hazel eyes looked into the box, he saw something rather eccentric. Inside of the box lay an abnormal looking Cobrall, with only two stripes, one green and one blue, with a short, chubby tail that barely existed. Its eyes were a pale green color, and its pupils were barely visible. The petpet could easily pass for a skinny Slorg.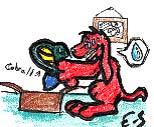 His parents watched their son's expected reaction as he took the Cobrall from the interior of the box. "Uh.. thanks, mom and dad." Brandon choked sadly while grasping the odd creature within his grasp. "It's great. I'll take good care of it."
"I'm sure you will." Brandon's mother reassured with a kiss onto her son's cheek, although his sisters were busily laughing away towards their brother's "gift". "You can go on to bed now. Since your sisters have such a great sense of humor they'll help me clean the table."
Brandon forced back tears as he bounded up the stairs with his new pet. A feeling of grief and embarrassment prodded at his throat as he held back the salt water that longed to fall from his eyes. Letting himself into his room, the red Gelert tossed his Cobrall onto the floor with disgust. As the Cobrall slithered out of the door with fright, Brandon slammed it behind his new pet.
***
The first day of owning a petpet was seemingly the worst. Brandon tiredly managed to open his eyes early that morning, only to find his bedroom torn into shreds. His stamp collection, his toys -- everything was scattered all over the place, as if a tornado ran through his recently cleaned bedroom. The Gelert faced his petpet with rage.
"Look at what you've done!!" Brandon cried with disgust, as his Cobrall slithered contently to his feet. Why, he'd never done anything to that dumb Cobrall for him to tear up his room! How did he get back inside in the first place? The Gelert angrily kicked his wall. "What kind of gift are you supposed to be, anyway? You're deformed enough as it is -- now you can't even listen to your owner?"
The Cobrall intently looked towards his owner as he stormed out of the room for another day at school, a slight feeling of hurt and sorrow clouding his exterior.
School was just as bad as it usually was for the timid Gelert. He was teased, and found himself overly awkward when it came to speaking aloud for any kind of reason. Compared to home, school was such a different dimension of Neopia that Brandon hated to experience, especially without his parents at his side. "Big paw!" and "Fatty tail!" were a few of the childish names he heard yelled his way that afternoon. Brandon often wondered to himself: why can't they just like me for who I am? The canine found it very hurtful to be prejudged, over and over again, day after day. These names often left him at home, thinking angrily to himself about some of the bullies and their actions that past day.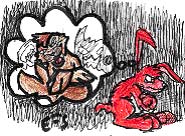 The afternoon managed slowly drag on, until the Gelert was finally able to head home.
Upon stepping in the threshold of the doorway to his bedroom, Brandon sighed with guilt, noticing that his pet still lay in the exact positioning that he did that morning. Letting himself into the room, Brandon saw what seemed to be a saddened expression upon the pet's face.
"Oh," Brandon managed to say, taking a seat on the floor next to the Cobrall who sat as if a statue, motionless. "I'm sorry I treated you so horribly this morning." Immediately Brandon felt guilty for what he had done. He treated his petpet as badly as the others at school had treated him, and for that he was truly sorry.
Silently, Brandon's pet forgave him, willing for a new start.
Over time Brandon eventually let his Cobrall, now deemed Pudgy, into his life. It took a while for him to look past his differences and allow the petpet to become his best friend, but eventually he did, and he was quite grateful for that. Every day before and after school the timid Gelert would feed his pet and make sure he was cleansed, and changed the small sheets to the bed that he'd put together for him in his spare time as well.
Soon everyone was used to seeing Brandon with his Cobrall. They were virtually inseparable. His parents observed Brandon's activities with his Cobrall for a few weeks, quite glad that their plan had worked, and continued hoping that the best was to come for their son.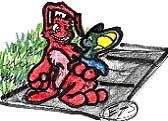 His parent's intentions were soon put into effect. At home, one evening about a month later, Brandon sat with Pudgy contently sleeping within his lap. The Gelert had learned to relax and show a side of him that he had never knew even existed around his petpet, and he was overly thankful for that. While thinking aloud to himself, Brandon realized that he had learned something different.
He stroked Pudgy's scaly skin while realizing aloud, "You know, Pudgy, I always thought that since I was teased at school, that everyone was like that. But then my father brought you home. At first, I remember that I was frightened of you because you looked different, and I expected you to not be a very special petpet.
But know I've learned something. It's not what counts on the outside; it's what counts on the inside. I'm really sorry for thinking you would be a horrible pet just because you looked different than the average Cobrall. Now, maybe the students at school can look at me differently, too."
Brandon smiled and then thought to himself some more. Tomorrow, he'd start anew, with this knowledge on hand.
The End