The scent of pine needles and the cool breeze of the air conditioners hit you as you walk through the grand Neolodge doors. Soon enough, a friendly Techo in a red velvet suit with gold buckles approaches you, a smile smacked across his face. "Hello, can I help you today?" He asks, making his way behind the reception desk. "Actually yes," you respond, "I'd like a room for the night.
You wait patiently as the Techo reaches under the desk and brings out a large red book with the Neolodge logo on it. "Just have a flick through here and see which floor you would like, and I'll be back in a moment." You thank him and proceed to scan over the contents of the book.
Cockroach Towers? Of course not, you're better than that
Presidential Palace? For one night? Come on.
Mountain Lodge? Pretty Impressive, but you keep moving on...
Suddenly, just after you have passed the Hotel Opera display page, you notice that there are two pages stuck together. Making sure no one is watching, you quickly unpeel the pages, to find a floor of the Neolodge you have never heard of before.
The Noxious Villa.' Well that's unusual. You ponder as to whether the name is familiar. Just as you are wondering about the mysterious floor, the Techo comes back, happy as a button. "Have you picked out your floor yet?" You point to the page. Immediately the Techo's exuberant smile evaporates. "I'm afraid that that floor is unavaliable.
Annoyed at his sudden change of tone, you press on, "I'm sorry, but the signs on the wall here say that every floor of this hotel is avaliable to Neopians of all kind. I would like a room please.
After a few dodgy glances and a lot of sighing, the Techo finally gives in and passes you the key. Unlike the other keys, this one is small and a dark olive green colour. You make your way to the elavator, press the button, which appears to be dimmed out, but there nonetheless, and casually wait.
The Noxious Villa is unlike any other floor. There is a certain serene and quiet quality that makes it eerie and slightly uncomfortable. Lugging your small bag, you notice that there is only one room. Shrugging, you make your way in, put your bag down, close the door and make yourself at home.
A few hours later, after scoping out the dingy TV channels and the minibar, you notice that the large tapestry like painting on the wall is shimmering and making unusual patterns. Quickly, you jump behind the bed, shivering in fear. What approaches is bewildering.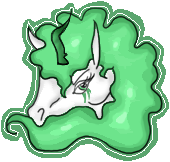 Welcome to the Noxious Villa
The sandpaper like voice belongs to a Uni. She has a white coat, a green horn, sharp eyes, draconic like wings, and nitroglycerinic hair that floats around her like a poisonous gas cloud. We don't get many visitors here. I think my reputation proceeds me. But most of Neopia isn't worth it anyway. I much prefer my... peace. Not sure whether this is a welcome or an infectious warning, you slowly creep out of your hiding place.

You gulp. "So umm... Are you... the owner of this floor?" you ask, eager to get out of this confronting situation. Yes... You could say that I suppose. I dwell in a realm that lies behind that photograph.
You summon up some courage. "...Can I go there?
No.
Something about the Uni's personality, although stingy, makes you want to open up more. "Oh... Well... Don't you get a little lonely sometimes?" The Uni hesitates before answering. What's your name anyway?
You clear your throat then answer, "guest." She gives you a quizzical look, then seems to soften up. I don't usually do this... but I do miss companionship. Let me tell you a little about myself...


About Me
She makes herself comfortable on the ground, flicks her hair, then continues, So let me tell you a little about myself...
Name: Toxxita
Gender: Female, if you hadn't guessed *glare*
Owner: Sarah (Chokatosarah, Sarahreye)
Age: Not going to tell you that. Let's just say I'm not old.
Parents: *She glances out the window* Moving on...
Siblings: Corteo, Elvis, Finkle
Home: The Noxious Villa
Mate: *Snicker* If only...
Foals: Maybe one day...
Roleplay: Open



Spread the Word
Well you've really opened my eyes, guest. I feel a little like seeing more people around this villa again. You know... Show the other Neolodge floors who's boss right? So take this link, and show your friends. Who knows. Maybe I'll be back in business?
50x50